July 16th, 2010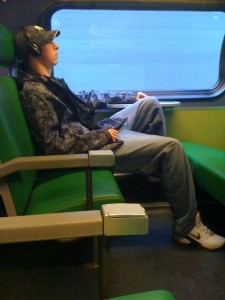 I'm headed to the airport via the train to meet up with a new friend, Susi. She is a friend of my parents and going to be in the area with a 6 hour layover, so I'm going to keep her and her oldest son company.
The guy in the picture is sitting across from me in the train. He's jamming to some Eminem. How do I know this, you may ask? Because his music is turned up so loud I can hear it.
I love people watching. Seriously, I could do it all day long.