March 29th, 2015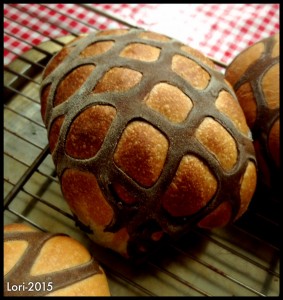 To know me is to know how much I love to learn-   I love the challenge of not only introducing new things to my life-  but also the process of putting techniques to work.
To know me is to also know that last year I decided to start learning how to work with yeast- and make breads after being inspired by two friends.
Part of my year last year was spent learning and actually putting bread baking techniques to use.
When I can share learning experiences with friends-   that doubles the joy- and also, the fun.    Yesterday's learning experience was shared not with one friend, but seven friends.
I found a brilliant artisan bread baker via Facebook- and we decided to take a workshop with him and learn various techniques.   This is one of the techniques from yesterday-  it's a lattice covered boule'.
Dinner last night-   was this bread shared with a good friend.   French Compte' cheese,  alongside a local pumpkin seed cheese, a spicy zucchini spread, tuna salad, toasted walnut and blue cheese spread.    It was a feast.
Today-  I smile when I look at this photo-  as it brings a smile to my face thinking how far I've come, and how much excitement I feel in all there is to learn and discover.   Not only in bread baking, but in life-