May 21st, 2014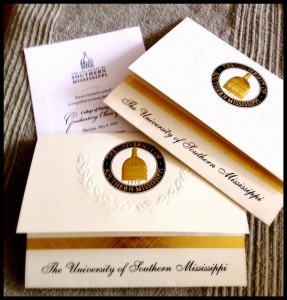 Two weeks ago Friday- my favorite twins, and also two of my favorite people in the world closed the four-year chapter book in their lives at University of Southern Mississippi and now set off to open new doors- and travel another path of greatness.
Words can't begin to describe how proud of them I am-   after all, I've watched them grow (from afar) into the beautiful, amazingly talented young women that they are.    I've shared in their laughter, their tears, their triumphs and struggles.
It was hard for me to know that I couldn't be there, as it is for any great milestone that happens back 'home'.   I knew Samantha and I would be messaging back and forth as the day would allow, but nothing is like being there.
I struggled with it- and had it not been our year to travel home for the holidays- I suspect I would have made the trip to see them walk, but as it turns out-   a little Google search, and I was able to find that I could watch them live- via the Internet and a life stream.
Seeing that was one of the biggest moments of joy I felt that week-  I cried, what Oprah would call 'the ugly cry', because I knew in some small way- I could be there.
The graduating class was large, so they had two ceremonies to break it up a little for the families.   Since most people don't have twins or two children graduating at the same time, it makes it easy for them to have a two hour ceremony and the day moves on, but for Samantha, Tommy, Olivia, Ainsley and the rest of the gang-   it meant an all day affair.   Ainsley graduated at 10:30 am commencement, and Olivia at 2:30 pm.     I watched them both- I cheered, I cried and mostly I felt immense joy for these two beautiful young women who are starting the next chapter of their lives, and that because of the beauty and power of the Internet-  it bridged the miles and gave me a front row seat.