November 14th, 2011
Well you know what they say- "The road to hell is paved with good intentions." I have a LOT of pictures to share in order to catch up on my Photo 365 project- but I am determined to do that THIS week. Last week got a little derailed when I crushed my fingers, so any time I had to use the computer and type it was related to my business and not for fun and games. (I won't even get into how far behind I am on emails.)
Anyway- two of my fingers are doing much better and the black finger is still black and swollen, but not as bad- so it's healing and for that I'm happy. Now- without further rambling- I'll pick up where I left off on the Photo 365 pictures.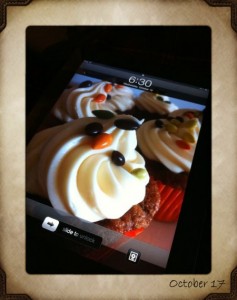 October 17-
I finally took the plunge and bought myself an iPad.   Technically, I bought it for the business as I write recipes on there and can use it easily in the kitchen- not to mention it will be great for showing potential business customers pictures and such if I meet with them out and about.  
It has proven to be really handy thus far and I know that it will only become even more so in the future.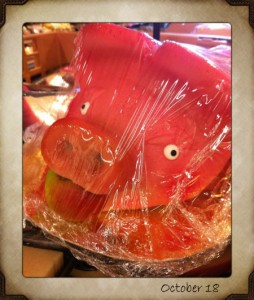 October 18-
This little piggy went to market….  
Well this little piggy is something I saw while at the grocery store.  He's made from marzipan and I suppose you could buy him whole, but the store had other 'piggies' sliced into pieces to be bought by the ounce.   I'm not a huge fan of marzipan in this way, but I find it quite entertaining to see a whole pig made out of one and then slaughtered and sold off.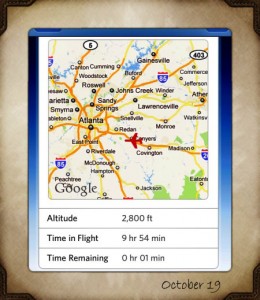 October 19-
This was a pretty sad day for me.  It meant that vacation time was officially over and that mom and diddy were headed home.   This is a screen shot that I took of their flight home that I was tracking. 
The shot was right before they landed in ATL. 
The good thing was that I had a lot to do to keep me busy once they left- which made being without them a little more bearable.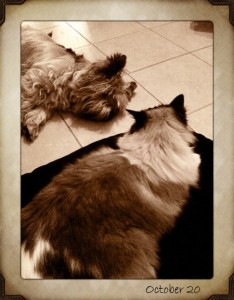 October 20-
It is a rare day that JJ and Mister M. sit still together long enough for anyone to get a picture.  The fact that they were lying so close  to each other made me smile and although it didn't last long- it was a moment that brought a lot of joy to my heart.   Now if I could only convince them to do this more often without tumbling and chasing each other- life would be a lot more peaceful in this household.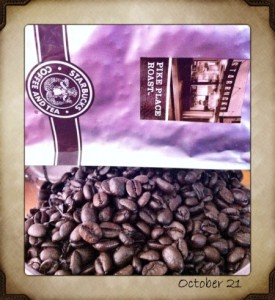 October 21-
I opened a bag of Pikes Place Roast this particular morning and decided that I'd lay the bag on top of my grinder before grinding the beans and take a picture of it.
Often when I go to Starbucks- I'll get a cup of Pikes Place Roast and add a splash of milk and nothing more.   I don't always have to have the 'frou frou' coffee (as my brother calls it).  Don't get me wrong- I love a good specialty coffee, but sometimes, the only thing that will do is a good strong cup of coffee with a splash of milk.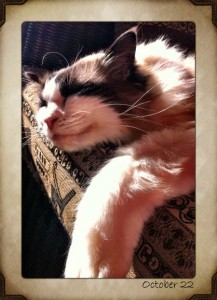 October 22-
This is one of the last pictures I have of Mister M. on the "Walk like an Egyptian" sofa.  We now have a new sofa (much needed) and we've ordered a gorgeous chair that should arrive next Thursday.   I love this picture because it looks like Mister M. is smiling as he's lounging in the sunshine.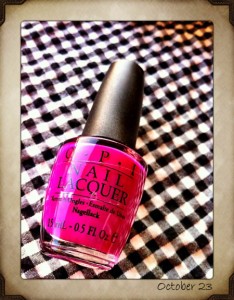 October 23-
I gave myself a pedi on Sunday.   The weather was perfect, so I decided to sit outside and while I was out there, I pulled out a bottle of  OPI and went to town.  The color doesn't really show well in this picture- but my toes are a beautiful eggplant color..  
Oh and have you heard?  OPI is coming out with a Holland collection in the Spring of 2012.  I've seen a little preview and there are several shades I have my eyes on.
3 Responses to "October 17-23 (Photo 365)"