November 5th, 2011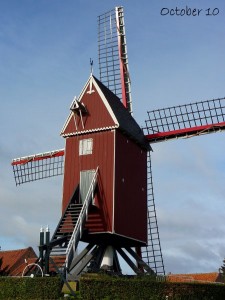 October 10-
I'm still attempting to catch up on sharing my Photo 365 pictures here- and after this weekend I should be pretty close to caught up- if not completely caught up.  Whew!    Hopefully then I won't get behind again and can continue sharing pictures once a week.
This day was actually Marcel's birthday and we headed to the South of Holland where we spent the week visiting Bruges, Brussels and other towns and cities in Belgium.    This particular windmill was in a small town that we kept passing through and I can't remember the name of it off the top of my head, but I was happy to get a picture of it on our first day passing through on our way to a large supermarket (think Wal-Mart or Target size) named Carre Four.  
We picked up a few things while Marcel spent most of the time outside-  as he doesn't share the love of visiting grocery stores in foreign countries that mom, diddy and I do.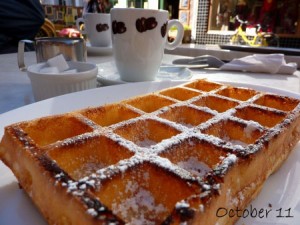 October 11-
On Tuesday we found ourselves in Bruges, Belgium and after spending a little time at my favorite chocolatier (The Chocolate Line) we decided to get some lunch.   None of us were starving, but we did want 'something'  so decided what better to eat in Belgium than Belgian waffles with a nice cup of java.    They were as delicious as they look and I have to say we each enjoyed every bite.  No butter, no syrup, just pure waffles and a touch of powdered sugar.    Bliss, I tell you.   Nothing like the Belgian waffles you can buy at the grocery store everywhere and definitely not in the same ball park with Eggo.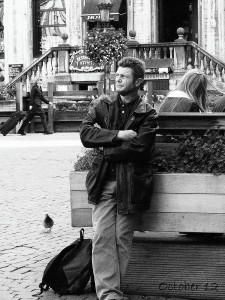 October 12-
I took a LOT of pictures while we were traveling-  and this day found us in Brussels.   I took many that I liked of various landmarks and such, but there was something about this guy who was leaning against the wall observing all the goings-on in the huge square we were all standing on that I liked.    He had an air of mystery about him, which was probably heightened by the fact that he had the backpack lying beside him.   
I watched him for a little while, and he seemed so deep in thought. I couldn't help but wonder what he was thinking- where he was from and what his life was like.   It's interesting to me how we see so many people- yet there are some that strike us in some way or another and that's how I felt about this man.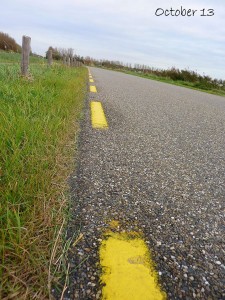 October 13-
One afternoon after we had come back to our cottage from our adventures we decided to take a walk around the area.     Marcel, mom and diddy were walking along the path and I was walking along the side of the road..  technically I was walking in the middle of the road when no cars were coming, but when I'd see one, I'd move over to the side (I didn't see many.).    While I was walking at one point, I noticed the yellow line on the side of the road and decided to take a quick shot and use it for the photo for that day.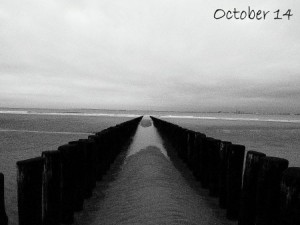 October 14-
This particular day we tried to get out and visit a small town in Belgium that's located on the beach but it was pouring when we got there-   We ended up stopping and having a cup of coffee and looking around the immediate area, but it was raining too hard and it was too windy to try to make it out to the beach.  
Instead- we decided that we'd go back and hang out in our cottage where it was much warmer.    Later in the afternoon the rains stopped and we decided to walk from our cottage over the dunes and to the beach.   I took quite a few shots there- and many of them are in film grain because I just loved the way it looked against the sky and the beach scene.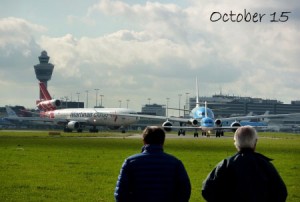 October 15-
Diddy really wanted to go to the airport to watch planes land-  so one day we jetted off to the airport not to leave- but to see what we could see.   We had directions where we needed to go, but the wind was strong that day and coming from a different direction so they weren't landing in this part of the airport-  instead, this is where they were taking off.    Marcel and diddy stood out for about a half hour watching the planes  take off- and this is one of the many that I took watching them- (and the planes).      I loved how the KLM 'big and little' planes were in a row with a HUGE cargo plane after them.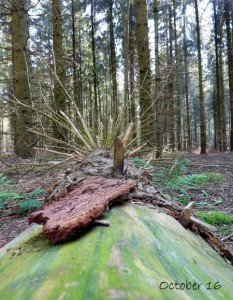 October 16-
We went walking through a forest and I came across this pine tree that had been cut and was lying there.  I thought it was kind of cool the way it had started turning green from algae and also how the branches just kind of stuck out at random.
One Response to "October 10-16 (Photo 365)"