December 18th, 2011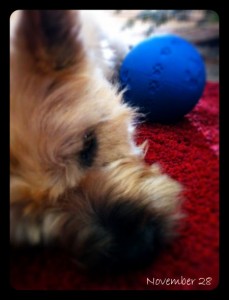 November 28-
This blue ball is one that we bought JJ when my parents were here.  In fact- it was a little gift from all of us because they contributed as well.   It was bought to replace the soccer balls that squeak that he loved, but that kept tearing up every monthy or two, leaving us spending a lot of cash on balls for him.
This one originally squeaked as well, but since it's 'squeaker' has broken, but the ball is heavy-duty and still going strong.   JJ is never far from this ball-  ever.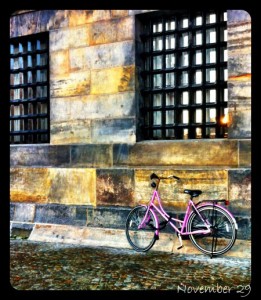 November 29-
I was out and about in the city and saw this bike leaned against an old building.   I loved the contrast between the building and the pink bike, so grabbed a shot of it with my iPhone and then ran it through Camera+.    I like the end result. 
I've been using the 'eye' (iPhone) a lot lately to take pictures- partially because I've been busy and also because it's so handy.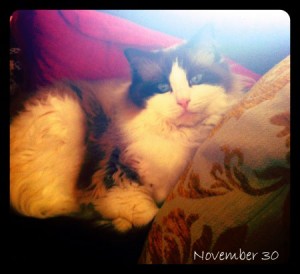 November 30-
I love this picture of Mister-  I took it on one of the few days lately that we've had sunshine- so the background was over exposed.   He was sitting on our new chair- and curled up next to the cushions and watching me to see what I was doing.  It wasn't long after that he curled into a ball and went for an afternoon snooze.
He and JJ are such a source of joy in my life-   Even as I sit typing this- he's curled up in a ball right beside me.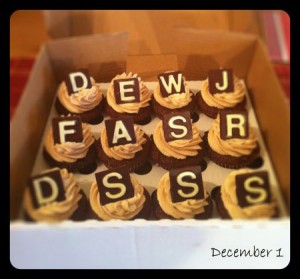 December 1-
On this day I was super busy with a cupcake order and putting everything together for a delivery.   These were a special Sinterklaas cupcake-  gingerbread with a cinnamon ginger frosting- topped with a traditional "Dutch" chocolate letter (that I also made out of Callebaut chocolate).
They were a huge hit amongst the receivers and one even termed them 'divine'.  That's a way to bring a smile to my face!
Another day spent in the 'cupcake kitchen' and whipping up some more "Sinterklaas cupcakes".    These were for a party and also a huge hit amongst those who tried them.
I have to admit these are my favorite seasonal cupcakes- so much so that I'm considering keeping them on the menu year round- minus the chocolate letters, of course.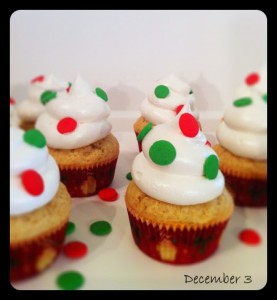 December 3-
It was the weekend of the cucpake and this is a shot of the cupcakes that I made for Christmas.   Eggnog cupcakes with a Spiced Rum meringue frosting.   Since I'm not a huge fan of eggnog, I wasn't sure if I would be able to capture a flavor that I would like and that I thought others would like.  Surprisingly, I did- and everyone who tried them said they were wonderful.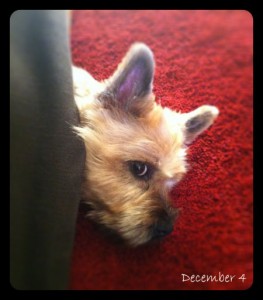 December 4-
This is JJ peeking his head out from under the new sofa- and attempting to figure out how to get out from under there.   We thought for sure the new sofa would be the end of our 'ball under the sofa' woes, but imagine our suprise when we realized that JJ can get under there!   So now- when his beloved ball disappears- he goes after it- but rarely does he come out with the ball- he just sits and waits for us to get it, and then squeezes his way back out.