November 29th, 2011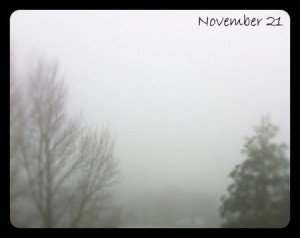 November 21-
The fog rolled in on the 20th and it seemed to linger and linger.   This was mid-afternoon Monday and not even at the worst that it was during the day.  
I am not one to complain about the weather, but it was cold, damp and just general BLAH weather.   I have never been so glad as I was the day I woke up and found sunshine after so many days of this.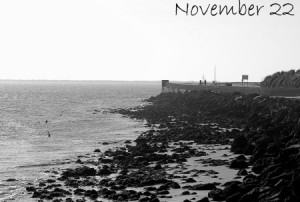 November 22-
The beach- one of th places where I can find the most peace and solitude.   I love the sound of the waves crashing against the shore- of the sea salt smell, and endless open space.
My dream- to own a small cottage on the beach that I can have as an escape.  A place to write, take pictures and do all the things that I love.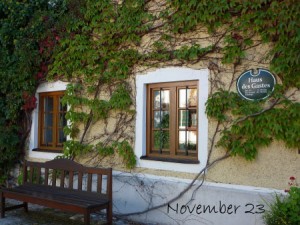 November 23-
 I didn't actually take this picture on November 23rd, but instead when I was traveling with my mom and dad.  I didn't like the shot that I took on this day particularly, and when I was looking through some vacation pictures, I came across this and decided to share.   
I love the quaintness of it- and the small town we were visiting was also very quaint.  It was somewhat of a ghost town at the time- because it was a ski resort town, but I can imagine that once the snow begins to fall that it's bustling with activities and people.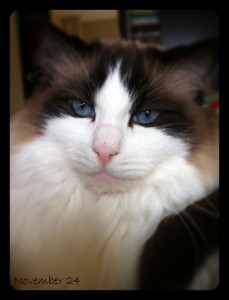 November 24-
The fabulous Mister Mistoffelees, who is so sweet and well- brings joy to my life each and every day.   Even as I type this- he is lying beside me here on the sofa and if I reach over and pet him he stretches out and begins to purr.   
I've had many many cats in my lifetime- but he is probably my favorite of all.    We've had him six years now, and I hope that he's with us for at least 20 more.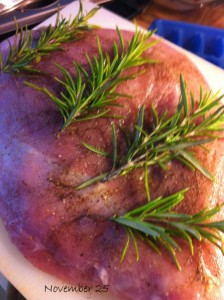 November 25-
We didn't have Thanksgiving on Thursday since Marcel was working, but instead we celebrated during the weekend when he was free and I could cook up a storm and we could enj0y!   The picture is of the turkey breast that I cooked- still raw, with a few spices and sprigs of rosemary out of my little garden.    It was boneless and skinless- so I wanted to take extra care that it didn't dry out.   I covered it in bacon, and baked it covered in foil until almost done- the removed the foil so the bacon would crisp.  It was divine if I do say so myself.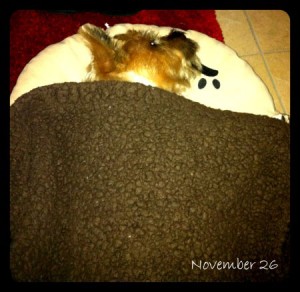 November 26-
After a busy evening in the kitchen- Marcel and I curled up on the sofa to watch a movie and JJ decided to lie on his little cushion and have a nap.   I saw him stretched out and covered him with a blanket.   Surprisingly, he stayed put and I assume enjoyed the warmth of the blanket.  I took a quick picture and it wasn't long after that, he got up.   I thought it was adorable!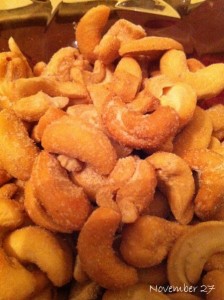 November 27-
I bought a bag of salted cashews to put on the table for snacking on, and when I poured them in the bowl, I decided to take a quick shot with the 'eye'  (iPhone) to see how it turned out.    It was better than I thought, considering the light source, or lack thereof, so I decided to make it my picture of the day.