February 15th, 2016
Earlier today, I was focused on doing some tax preparations and I glanced up.   The morning, which had been filled with grey skies and even a little snow here and there,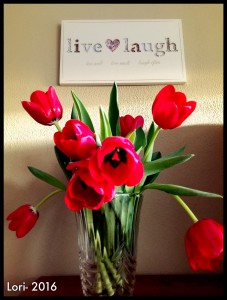 had given way to blue skies and bright sunshine.     It's cold outside, but the sun- oh the sun- it was so beautiful.
As I glanced up and took notice (and a moment of gratitude) of the sunshine, I also noticed the tulips that my mother-in-law gave me a few days ago looked as though they were basking in the golden afternoon sunshine.    With the sign on the wall hanging above it, seeing the two together brought a huge smile to my face.
The photo doesn't nearly do the beauty of the moment justice, but I wanted to capture it anyway.
If you know me- then you know that red is one of my favorite colors, but also that I love words, and the beauty found in the little things that surround us daily.    Things that we often miss because our focus is somewhere else-  our minds jaunting off so far ahead of us that we can't really keep up, unless it's when we drift off to dreamland each night.
This year, I'm trying to take the time to notice those 'little things' even more.   To take a moment to really enjoy the gift that I'm given in not only noticing, but also in the moment itself.    Today, I did just that.
What about you?   What one 'little thing' did you notice today that brought a smile to your face, joy or warmth to your heart?