December 3rd, 2012
When Matt and I were growing up- Santa used this wrapping paper EVERY year to wrap our gifts.
In fact, mom and diddy told us that because we had a huge (and I do mean huge- think department store roll) roll of it, they just left it out for Santa to use. We definitely had an abundance of the paper, so much so that my brother and I used it for games and finally got to the point we never wanted to see that paper again.
Fast forward many years later and here we are 2012 and low and behold the 45+ year roll of paper still exists. Since vintage is in, and because this has so much meaning in our household- I pulled it out, bought some cute ribbon at Michael's and voila- old paper makes a new hip entrance. It's bound to bring a few laughs this Christmas season as wouldn't you know EVERY present will be wrapped with it.
Definitely adds another level of sweetness to Christmas this year.
Oh and for the record- I find myself wondering why or how I ever hated it in the first place.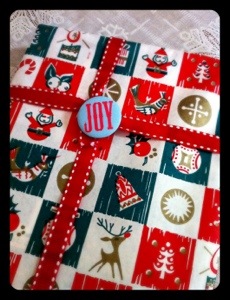 One Response to "Nostalgia in Vintage Paper"