March 29th, 2013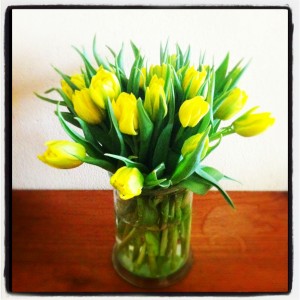 Earlier today,  when I opened the front door to go out for a quick walk with JJ, there was a bag hanging on our front door.    Inside the bag were three bouquets of gorgeous yellow tulips.   There was no note-  just the tulips, which happened to be in one of my favorite colors.
Ironically, just a few hours prior to this discovery- I'd posted a photo on Instagram showing another bouquet of tulips that were just about past their prime.   In fact, I'd taken the photo of them knowing that later today or tomorrow I'd be throwing them away- and now three times as many showed up.
They made me smile and I'm very grateful.   The only person I can imagine it could be was my mother-in-law, but I not sure.  I called to see, but she wasn't home.    No matter who they are from-   it's definitely made my already bright day- a little bit brighter.
Maybe we should all accept this as a challenge to do something to brighten the day of someone else this weekend!
Happy Good Friday Y'all!