February 21st, 2013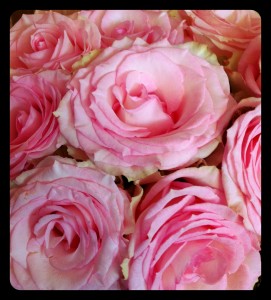 A week ago today was Valentine's Day-   You know- the day where there seems to be this expectation to show love via candy, flowers, jewelry and all the other trappings.
I will admit- I like the holiday, not because of all the feelings of expectations that come along with the holiday for some- but because I like to use it as a day to show a little extra love and attention, because I personally believe love should be something we show year round.
I also don't feel as though it should apply only to our romantic love interests, but also people in our lives who matter-   our friends, families and even strangers on the street.  After all-   doesn't everyone deserve love and kindness?   I think so.
I'm not saying that we should try to become BFF's with everyone we meet-  since after all, we all have our own journeys and some of us are compatible and some of us aren't- but we can always show kindness, a smile- a random act of kindness-   all forms of love.
These are the roses that Marcel gave me-  not because he felt he had to- but because it was what he wanted to do.   A little something extra.     He shows me every day that he loves  me in a variety of ways, and the biggest is that he's there for me-   I know that I can count on him.
Recently I've been unable to function in my normal every-day capacities.  It's something that is temporary- but it's also something that has me unable to do a lot of  things that most of us take for granted.    (Don't worry- I'm not sick and I'll be fine.)    That's why the silence on the blog-   and silence everywhere else-   I'm unable to do a lot of talking-  unable to spend a lot of time on the computer- among other things.     He has picked up the slack and been there for me.   That goes beyond roses and holidays-  it's commitment and for that I'm so grateful.
*In the meantime- I may be slow to write here- as my time on any tech devices is completely limited-  I'm simply unable at this time, and completely focused on taking care of me. *
4 Responses to "More than Love"