November 24th, 2013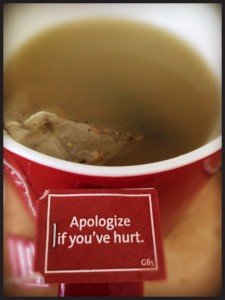 Earlier this week, I picked up a box of Chai tea.    Skinny Chai Tea lattes are my fall/winter 'go to' drink at Starbucks when they are out of PSL or Gingerbread, and sometimes I like to be able to have a similar experience at home.
You may be wondering why I'm telling you all this-   but there is a method to my madness, I promise.
This morning, I skipped the coffee, and decided that it was a chai kind of morning.   I pulled out my red mug that I always use this time of the year, and opened my bag of tea.   What I didn't know- is that Yogi puts messages on their tea bags.   This message was on my bag of tea.
"Apologize if you've hurt."   Simple words, right?   It's honestly a lot harder than it may look, especially when we add a sprinkle of ego into the mix.     I can't speak for others, but what I do know is that this simple message gave me pause this Sunday morning.
If you know me, then you know my intent is never to hurt anyone.    Some of us may ask the question- does anyone ever intend to hurt others, and sadly, I would say that answer is yes, but I digress.  That's a subject for another day.
Still, even though I know it's never my intent; I know that I have hurt people in my life.   I wouldn't think it was a regular occurance, but I've found that just because we say something without intent, doesn't mean that the way we say things isn't perceived in a completely different way by someone else.
Sometimes we hurt others with the choices we make, even if it's necessary at the time.  But I also believe that it's our duty as responsible adults to communicate when we have been hurt and to attempt to make amends, if, in fact we would like to clear the air.
Some may feel that is an unnecessary step, but is it?  How many of us have stewed in hurt and allowed it to become toxic in our lives?  I would venture to say quite a lot of us, including myself.     It's been many years since I felt the need to seek 'revenge' on someone who wronged or hurt me, but I've definitely felt that way.  The person it hurt in the long run-   ME!
So if you're reading this and for whatever reason you've felt that I have hurt you-  whether I am aware of it or not;  I apologize sincerely.
It's amazing to me how a little tea bag can spark pause and reflection.   I'm a firm believer in that there are no accidents, so I'm listening.  It's a gift I can give myself, and for that I'm grateful.
Are you holding on to resentment, anger, hurt or felt wronged by someone?   If you can, take the time to talk to them about it- they may be unaware you feel this way.  If not, do what you can to work through the pain and frustration, because the only person it's hurting is you.     Allow yourself to forgive and to be forgiven.  It's a freedom and release that can change your life for the better.
One Response to "More Than a Tea Bag"