February 9th, 2014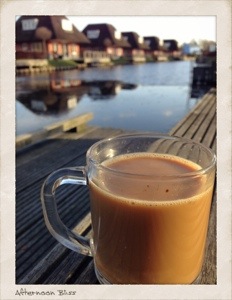 Marcel and I had a wonderful week away. It was peaceful, relaxing (except for the one moment when JJ decided to chase the scent of a rabbit), and rejuvenating.
It's just what we both needed, and a great way to celebrate ten years of marriage.
For Marcel, it was also a welcome distraction to the pending test results, plus it seemed to be good for his pain levels, which was the icing on the cake.
This spot, was out the back door of the villa we rented, and I braved the cold one afternoon, determined to soak up the sunshine, enjoy the quiet, and a cup of coffee. The entire moment can be described in one word- bliss.
I only lasted until I finished my coffee, as the sun started sinking, and so did the temps, but those moments were just perfect.
I love traveling, and while it was a different experience traveling with both JJ and Mister M., it definitely wasn't a bad one.
Aside from having dinner at a friends home, and a road trip with a friend for shopping- the entire trip was pretty low-key. A rarity for us, since we tend to need a vacation after our vacations, but it was just what the doctor ordered.
2 Responses to "Moments of Bliss"