December 24th, 2012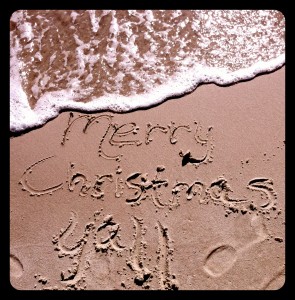 This past week flew by with a blur.    I spent most of my time in the kitchen baking two types of cupcakes for office parties, plus a cake, four or five types of cookies, and just as many candies- including two batches of fudge, oh and lets not forget- chocolate dipped candied orange peels-  all made from scratch by yours truely. 
I gave cookie trays to people who are busy and don't necessarily have the time to make home baked goodies themselves-   all baked with love and in an effort to spread a little Christmas cheer. 
Saturday we had a family party and had a really good turn-out.  It was so good to see family I hadn't seen in a while and spend time with them.  It meant a great deal to all of us that they were able to make it out here in 'da country'- as one of my sweet cousins so eloquently put it.    Believe me- in 'da country' it is…  You know that's true when you can't see any neighbors and have to drive 20 minutes for any resemblence of shopping, but I digress.  I also love it!  
In spite of last week being extremely busy- we did take a moment out of the hustle and bustle of it all and spend some time at the beach-  we drove down to Dauphin Island, walked along the shorline and I was amazed to find that there are still small remnants of Hurricane Katrina still washing ashore-  small pieces of people's lives…. 
It was there where I wrote in the sand- the Merry Christmas wishes you see in the photo above.   It was a relaxing day out-  followed by us going on a quest for fresh oysters (and finding them) in Bayou la Batre from some really nice oystermen.  
Today is Christmas Eve. and we will spend our evening in the company of people that I love.   Tomorrow,   Christmas day-  will be a day filled with family.    Our celebration won't happen until dinner time- so for the first time ever, we'll be having Christmas breakfast.    I'm going to whip up a breakfast casserole in a little while, and stick it in the fridge to work it's magic until in the morning.   I'm looking forward to what may become a new tradition.
Four weeks from tomorow we will be departing and heading back home- but in the meantime- we've got four weeks filled with fun and adventure to enjoy.   Marcel loves being here and I love seeing him so relaxed and enjoying  himself.   There's a house for sale across the street from Samantha-   on the water, with a huge workshop out back.   A gorgeous home in a great neighborhood-   I think it's calling to both of us.   Who knows?
Merry CHRISTMAS all!    May you be able to use this Christmas season as a time to reflect on your many blessings and as a time for forgiveness of anything that could be keeping you from living your best life possible and as a time of love.
One Response to "Merry Christmas from Us to YOU!"