May 15th, 2011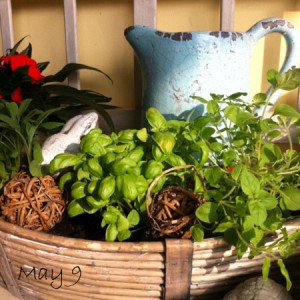 May 9-
This photo shows perfectly how we kicked off the beginning of our week- planting flowers and herbs.   I've been really anxious to get everything planted and completed so that I could sit back, relax and enjoy the  beautiful colors.    This is a shot of part of my little herb garden.  In this photo is Sage, Basil and Oregano.  I also have Lemon Balm, Dill, Celery, Mint, Rosemary and Chives.    I can't wait to start harvesting them and using them in my kitchen.    In the meantime- I'll just enjoy how pretty they look in their planters.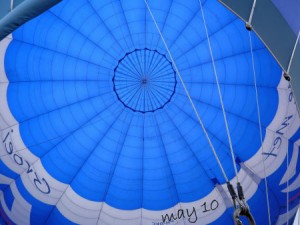 May 10-
Tuesday found me living out a dream that I've had probably since I saw the 'Great Wizard' hop in the balloon at the end of the Wizardof Oz movie- and thats ride in a hot air balloon.    Granted, mine wasn't from the circus and it wasn't from Omaha, Nebraska, but instead- I found myself drifting across beautiful farmlands and wooded areas that were simply breathtaking.  
This is also one of the things on my 101 Things in 1001 Days list, so I'll be able to check it off as DONE!   In the end-  Marcel ended up not going up with me, because he is afraid of heights and I think the excitement of it all was a little too much for him and he panicked.     I hate that he missed it, but for me- it was an amazing experience.  I would do it again in a heartbeat-   In fact- if I could- I'd go up in a balloon every night.   I was that awe-struck.   I'll write more about it later- but this is definitely something that's worth doing, if you have the opportunity.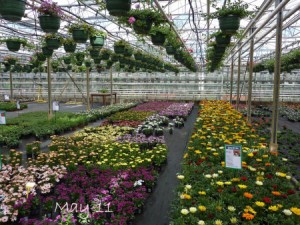 May 11-
We found ourselves back at my favorite plant center picking up what I hope is the last of the flowers and herbs for this season.   I always love walking through this HUGE greenhouse filled with many wonderful flowers, shrubs and herbs that it's alsmost too difficult to make the choice as to which plants I want.   In fact- I want them all.    Over the years- I have learned to try to choose flowers that are somewhat resistant to aphids, since I seem to have this disdain for them and having them on my plants make me a little crazy.   It goes without saying that this time of the year- definitely brings a smile to my face!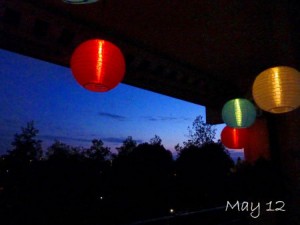 May 12-
I'd forgotten all about my solar powered lamps for the terrace, so when I remembered them I was excited to dig them out- leave them lying in the sun to charge and then hang them up.
As you can see for yourself-  they are quite charming and fun!    I'm looking forward to spending some time sitting in the sunshine this week and enjoying a little peace and quiet.  If you'd like to join me- you're welcome to do so.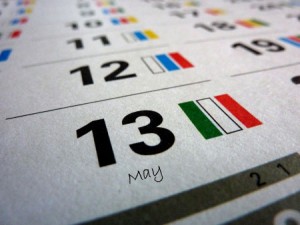 May 13-
This is Marcel's work schedule and I was spending a little time studying it so that I could try to work in some vacation plans for sometime later this summer.    Since it was Friday the 13th- I thought this would make a cool shot.   
I'm hoping our travels will find us in London and possibly the South of France.   More on that as I plan-  everything is somewhat up in the air at this point.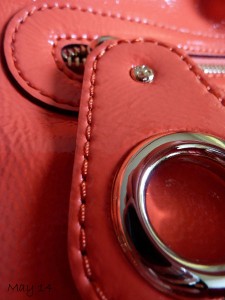 May 14-
This is a shot of part of my favorite handbag at the moment. It also happens to be the current handbag I'm carrying and I just love it!     The leather is soft and shiny- and on top of that- I adore the salmon color.    I actually forgot that I had it- and was looking through my bags and found it.   It was like Christmas all over again-    It will probably end up being my 'go to' bag for most of the summer- simply because of the color, amongst a few other thing.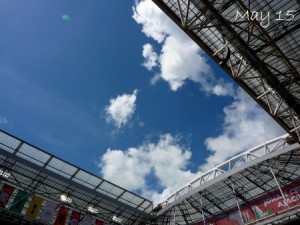 May 15-
Today was the end of an extremely busy week-    Not only was it busy, but it was also filled with lots of fun and adventure.  
Marcel and I found ourselves watching his favorite soccer team play today for the championship.    The weather was perfect- as you can see from the shot I took through the roof of the stadium- and to top it off- his favorite team won- making them the champions.    Great game- and great end (or begin -depending on your perspective) to the week.
It was a great week, but I'm definitely looking forward to a relaxing week at home this coming week.
2 Responses to "May 9-15 Photo 365"