May 23rd, 2011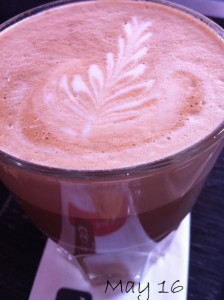 May 16-
Forgive me for being a day late with getting last weeks pictures posted.   The last couple of weeks things have been super crazy, and while I had good intentions yesterday-  I just didn't quite make it.
Last Monday- I mentioned going to get the coffee mug that my this cafe started selling.    While we were there picking up the mug- we decided to have a latte.  This is a picture of mine, but in a different mug than the one I purchased.     I love how the barista adds the patterns on top- and I think I'm going to attempt to learn how to pour and create the cute designs as well.    This particular latte was the one I had-  vanilla, while Marcel had caramel.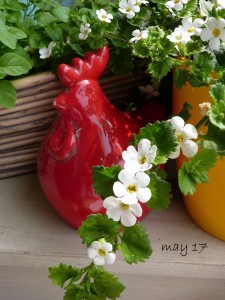 May 17-
I bought this 'little red rooster' last year when I redid the terrace and he made it through the winter and managed to find a new place again this year. Something about him makes me smile, and to see him nestled in amongst the herbs and flowers seem as though that's exactly where he needs to be.
As you can see from this and other pictures from this week – I definitely have a 'thing' for color.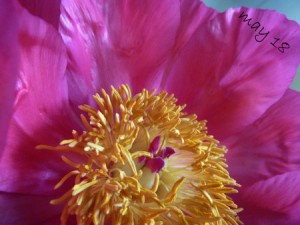 May 18-
Sometime the end of last week Marcel brought me some peonies.  They weren't open, but finally- at the beginning of the week they popped open and were breathtaking.   I managed to get a few pictures of them that I really liked, and this is one of those.   There is something about flowers-  that makes me want to view them from as close as possible.     I am not sure why it is-but I definitely have a thing about macro photography.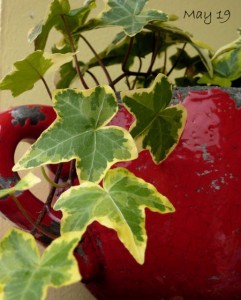 May 19-
This red coffee cup planter is also something I bought last year- and I love it.   I had ivy planted it in last year- so decided to repeat the process again this year, so I picked up this ivy when we were out getting plants a few weeks ago.  I love how the edges have a yellow tint to them, which happens to match the outside terrace walls perfectly.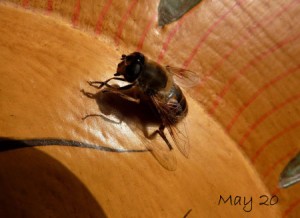 May 20-
Right after dinner on Friday I was standing outside and noticed this little bee.  He was flitting around on the flowers and finally landed on this wooden sun that someone gave me.  I was fairly certain that he would try to fly away when I got close to him- but surprisingly he didn't.     The photo was a little darker than I'd hoped- but I like the way you can see the outline of his wings in the shadow.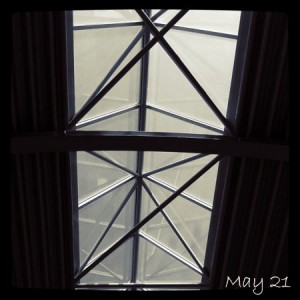 May 21-
Saturday I went to another city to meet up with friends- both old and new.  It was for a small surprise party for a new friend, who is expecting her first baby in about four weeks.   This was taken at the train station-  There was something about the angles that I loved.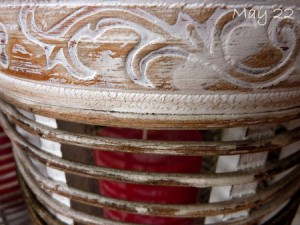 May 22-
Iwas kind of late with getting a picture on Sunday- so I took a shot of the first thing I saw when I thought about it. It's a candle holder that I have on the terrace.  It's just waiting for the perfect summer night to be lit.
2 Responses to "May 16-22 (Photo 365)"