April 1st, 2012
Wow- It's hard to believe that it has been a full year since I took on the challenge to start the Photo 365 project.  I wasn't sure if I would be able to keep up with it- and in spite of taking the photos, I have gotten behind on posting them (as with the case with the carpal tunnel and while on vacation), but I did it!   A full year of photos!     Several others started this adventure with me on the same date and I don't think they've been able to complete their year- but since it's about fun, I say people should post and do what works for them!
I'm definitely going to start spending more time with my Nikon, and see what I can come up with-   It's been collecting dust only to be brought out when I take cupcake photos or special occasion photos- and it needs some use.    In the meantime-  enjoy this last week of shots.  It has been a fun project and I'd highly recommend it.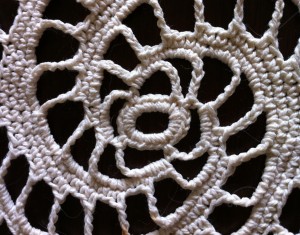 March 26-
Several years ago Marcel and I went to Bulgaria on vacation and I picked up some lace there-  This is the piece that I bought there for myself.    Something about it reminds me of the swirl of a hurricane.  I'm not sure why.
It is amazing how a tiny piece of string can be woven together to create something so beautiful.   I keep it on my coffee table- and each time I pause to look at it- it reminds me of a wonderful vacation with the man I love.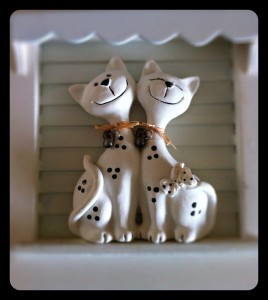 March 27-
This is actually a little box to keep something in and was given to me several years ago as a belated birthday gift.   It is cute- and I do love cats, but I've never used it to store anything.
I've been going through things that I no longer use and either throwing it away or finding other ways to use it (or sending to the recycle store) and this is one of those things.  I'm considering using it to store business receipts- but I haven't decided yet for sure if it will work.  If not- off to the recycle store it goes- but it really is cute.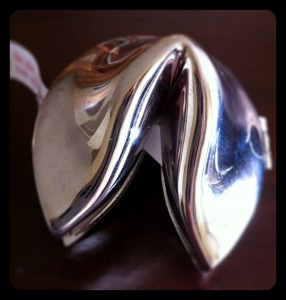 March 28-
This silver fortune cookie was also a gift-  from someone who I love dearly.  Better than the fortune cookie itself is the gift of friendship from the person it came from.   Inside is the fortune that the person created for me- with a beautiful quote.
If for no other reason than the gift of renewing this long-term friendship- this is why I love the Internet and the power it possess to reunite people.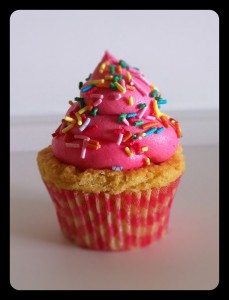 March 29-
These are "Sugar Cookie Cupcakes" that I made for a delivery bright and early yesterday morning.   It was a special order and since I didn't have sugar cookie cupcakes on the menu- I had to do my homework to try to create something that the customer would love.
They later told me that they thought the result was fantastic- so I was a very happy me.     Needless to say- the flavor of the cupcake is really good, so I've decided to add it to my menu.   In fact, I'm going to be making some more tomorrow and playing around with flavors and such.  I love how inspiration works!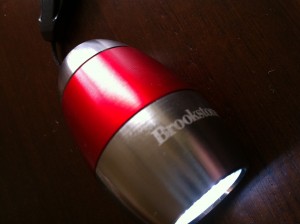 March 30-
A couple of years ago, I saw this little LED flashlight in my O Magazine.  I fell in love with it- and also with the great price (less than 10.00 each at the time) and decided that I wanted to get one for everyone in my immediate family, so I did.    They are waterproof and super tiny (but produce a lot of light) and everyone loved them- myself included.  This is mine- which I keep in the drawer on the coffee table for easy access.   Marcel keeps his in the drawer on his night stand for easy access during the night.   I'm not sure if Brookstone still sells them- but they truely are one of my all-time favorites.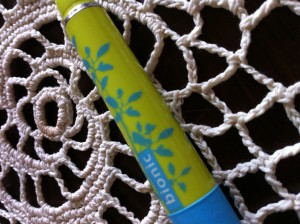 March 31-
This is one of my favorite refillable pens.   As you can see- it's colorful (like me haha)  and I use it from time to time when writing letters (yes, the old fashioned kind- I love them and I think it's a dying art) unless I need a colored pen to write with.
I love writing instruments and I also love pretty paper.  Marcel tells me all the time that I have enough of both to last me a lifetime- but I highly disagree.   One can never have too many pens, or too much paper.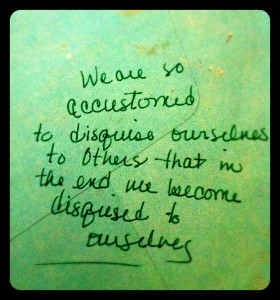 April 1-
I was cleaning out my computer hutch last week and came across this quote inside an old tin that I store things in.    It was surprising to me, because I don't remember ever writing it down, but I did- and on the back of an old, worn envelope.
I'm not sure who can be credited with saying it-  and based on my handwriting, I  scrawled it down not wanting to miss it, but finding it was like finding a treasure.   It fits in with what I've really been thinking about a lot lately and that's being true to myself in spite of it maybe not being the 'popular' thing amongst others.  I've found though- that the people who really care about me and who want to see others living their best life possible aren't threatened by the change and don't take it as being about them.  It's in this lesson that I'm learning who my true friends really are.   I'm grateful-  very grateful.
So as the last picture in the Photo 365 series of my little blog- I leave you with this quote-   "We are so accustomed to disquise ourselves to others that in the end we become disquised to ourselves." –unknown
A little Sunday Food for Thought.