March 31st, 2012
Since the Photo 365 project officially ends today (for me)-  I wanted to make sure that I shared all the photos that I've taken so that I can close the project on time.   I did decide that since tomorrow is Sunday- and would generally officially end a week of photos- that I'll end it tomorrow with a full weeks worth of photos- as opposed to just six.   It will be the last in the year in pictures- but I'm already thinking of a new project involving photograph- and I think I know just the one.
My arm has limited me a little in turning on the computer, so I tend to try to get as much done as possible when I do turn it on.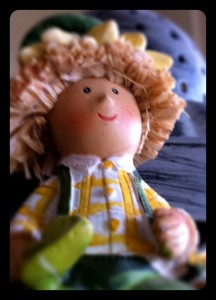 March 12-
This is one of a set of little garden people that my mother-in-law gave me several years ago.  She found them at a flea market somewhere and thought I'd like them and I do.   They are cute and I appreciated her thinking of me.   This year I think they're going to make the move outside and adorn the edge of a flower pot as a decoration since I think they would be cute outside.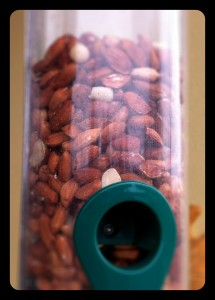 March 13-
This has been the 'hot spot' outside for the entire winter and now the spring as well-  the bird feeder filled with peanuts.   The chickadee's love them, which is who I bought them for, but it doesn't cease to amaze me when I watch the doves and the crows attempt to put their feet and weight on the perch (which doesn't work) and attempt to 'hover' long enough to grab a peanut or two.
It has worked a few times for the crows, but the doves tend to camp out under the container in hopes of someone dropping something.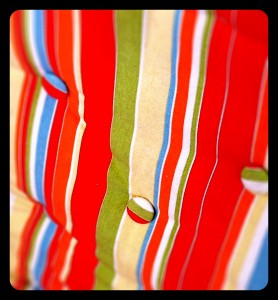 March 14-
These are the cushions for our outdoor furniture that is ready and waiting to be used.    I love the colors, which scream happiness and FUN.   Now all we need is the temps to warm up a little more and to see some more sun filled days- so I can retire outside with a good book, a cup of coffee and relax.
It's coming-  soon- I just know it.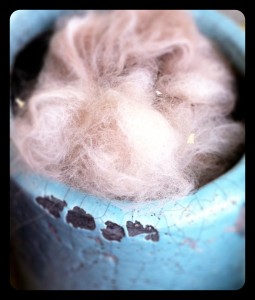 March 15-
One of the things I have been doing a lot of is attempting to rid my fluffy little Mister M. of his winter coat by brushing him regularly outside.
As you can see from this huge pile of fluff- it's working but his shedding is worse than I think I've ever seen it.   I'm not sure why-   but it seems like I'm brushing him daily and sometimes more than once.
I left the fur behind so that the birds who are starting to nest can use his fur as a lining to their nests.  It sounds crazy I know, but they love it.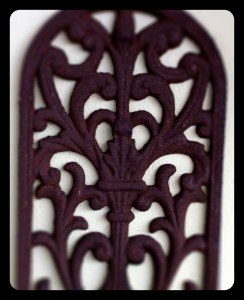 March 16-
I've noticed that I go through these phases where I post things in specific areas of the house- or outside.    This is a shot that I took of a candle holder that's hanging on the wall outside.  It looks rusty- but it isn't really, it's the look of the holder and several other items that we have hanging outside and love.   It's made from old cast iron and is beautiful on summer eves when we're hanging around outside and have a few candles burning in the holders.  They give off such a great ambiance.    Can you tell I am ready to start spending more time outdoors entertaining?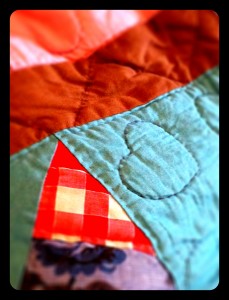 March 17-
This is probably one of my most cherished possessions. Ok- not probably it IS one of my most cherished possessions.  It's a quilt made by my great aunt Lois, whom I absolutely adore.
I try not to use it too much because I don't want it to wear out.   She offered me my choice of any of her hand-made quilts when I was home last time and while I felt weird about taking one, I knew she wanted me to- so I did.   I'm glad that I did because it's SO special to me and ranks right up there with the afghan that my grandmother made for me as a graduation gift when she was dying of cancer.
Both of my grandma's are gone- and Aunt Lois has become a grandmother figure to me.  I miss her so much and can't wait to see her when we get home.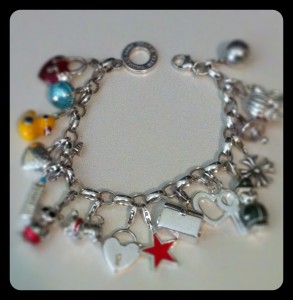 March 18-
I absolutely love jewelry and thankfully I have a husband who loves to give it to me.  Over the years he has given me some beautiful and amazing jewelry- one of which is this charm bracelet by German designer Thomas Sabo.   I have several other pieces from his collection (earrings and necklace) but this little bracelet has to be my favorite.    Several times a year they come out with a new collection of charms and there are always some that I'm itching to add to the collection.   This is only part of the charms since my bracelet is too full to carry them all, but each charm represents a gift from people who I love and adore-  including a few from me- to me :)
One Response to "March 12-18 (Photo 365)"