May 13th, 2012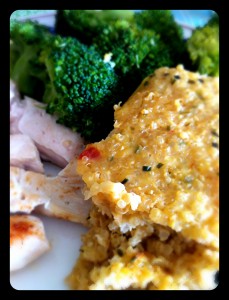 It is definitely no secret that ever since I tried quinoa quite a few years ago now, I've been a huge fan.     I've never really got creative with it- but instead generally cook it in broth, and add a few sauteed veggies in to it and serve instead of rice.    I once ate it with gumbo instead of rice (which was delcious in case you're wondering) and I recently added some seasonings that I got at a Morrocan store to the quinoa when it was cooking- (also delicous).    Aside from that, I really haven't been really adventurous.
Not too long ago, a friend shared that she'd made a 'mac n cheese' version using quinoa and just how delcious it was. She shared Moni's Quinoa Mac n Cheese recipe, which she had tweaked to her own liking and I filed it away in the back of my mind under "to make" in the near future.
Today was that day- I decided that I would also make my own twist to this recipe- and see how it turned out. The above picture is the result. I did change the recipe- I didn't use leeks- but instead used yellow and red bell peppers, some pink onions and chives. I used low-fat milk and I lowered it to 3/4 cup, plus added a little hot salsa and some low-fat mexican type Velveeta (around a 1/4 cup). I used low-fat shredded cheese and baked as directed.
The verdict? We loved it. I baked it in a 9 x 13 pan as directed and cut it into 9 squares. There are 6 1/2 squares left over, so we'll be eating it again this week. Marcel also loved it and said I definitely should make it again. I will.
I also think that it could somehow be made into a great breakfast dish using apples, cinnamon and maybe a few walnuts, so I'm going to see what I can whip up sometime this coming week. I'll keep yall posted on that result.
4 Responses to ""Mac n Cheese" – Quinoa Style"