January 17th, 2017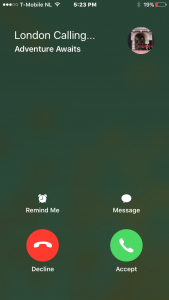 Approximately five years ago, I made a suggestion to my best friend, S. that we go to London for my 50th birthday.   At the time- 5 years out seemed like such a long time to be thinking about a girls trip, but we half-halfheartedly talked about it and every once in a while we'd make a comment about it as a possibility.
Fast forward to current day- when the year of Lori version 5.0 has arrived and the plan is in FULL MOTION!
Dates Chosen.
Flights Booked
Hotel Booked
Birthday dinner location chosen and waiting for reservations to drop so we can make one.
Fun being planned!
To say that I'm excited may be the understatement of the year.  S and I have never taken an overnight girls trip together, just us, so it's going to be a blast!
Do you have any 'must see or eat' places in London?  If so, I'd love to hear about it.      Since we didn't really want to spend our time traveling back and forth from the outside of the city to the hub of everything daily-  we are staying in the middle of the action in Westminster.    My birthday dinner?  If we can get reservations-  will be at Dinner by Heston-   as in Heston Blumenthal.      I really wanted to try to get into the Fat Duck, but since it's a little too far to travel for this trip, we're going with the closer option at Dinner by Heston.   We are also hoping to get a few bites in at Nori.
Ooh and did I mention that S will also be celebrating a birthday while she is here?   She arrives here and the following day is her 48th.      July is going to be a month of celebrations and this girl can't wait.
2 Responses to "London Calling"