July 31st, 2013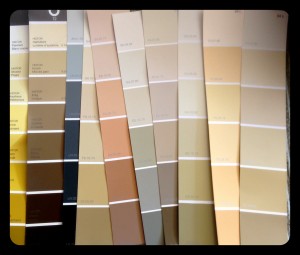 Have you ever noticed that when you decide you want to do some painting, and you go check out the colors, that what 'should' be a simple task suddenly becomes extremely complicated?
That's exactly how I felt when Marcel and I went 'paint color shopping'  this past weekend.   We aren't ready to paint just yet-   in fact, we probably won't paint until later on in the year because we have a few other things keeping us very occupied before that time, but I want to get a few color ideas in mind.
Mindblowing-  that's what it is.    I love anything hued in yellow.   To know me is to know that I always lean towards yellows and reds.   They're my signature colors if one has such a thing.    Our walls now are tinted in palest of yellows, but part of me wants something different.   Not drastically different, mind you-  as Marcel loves neutrals.    So the compromise is neutral walls- (which makes it easy if we change color schemes) and splashes of color in accents.    It works.
After loving at least one swatch on every one of these the other day-  getting them home has narrowed it down a bit.    I suspect a few more trips to the paint store before any decisions are made.   It sure is fun looking though.
Do you find it difficult to choose paint colors?