February 10th, 2014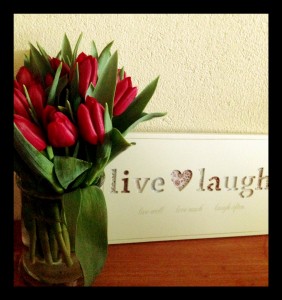 This picture really doesn't do these tulips justice, but they are a gorgeous deep red color.     To know me is to know that I adore tulips, and that they rank up there with sunflowers and gerbera daisies as my favorite flowers.   Plus, yellows and reds-  they're the colors I always gravitate towards.      "Live Colorfully" could be my life motto- because I really do believe I embody that in many different ways,  my love of color being just one of them.
I digress..
This is the week of 'LOVE'-  or at least that's what it seems like almost every company is advertising for Valentine's Day-   Show someone you love them- on February 14th.
While I am a sucker for romance, a good dinner, flowers, chocolates and bling-    those 'things' does not love make, anymore than February 14th is a day of love.    Realistically-  it's a day, a holiday set aside to show people they are special and appreciated.
My question for you is this:  Shouldn't that day be EVERY day?  Shouldn't we be letting people know we love them every-single-day?  Shouldn't they know that we appreciate them not one one day of the year, but ALL days of the year?   After all, there ARE 364 other days of the year-  and I personally choose to love through them all.
Live, Laugh and LOVE!    It's all part of the journey.   How much you invite to your party- is all up to you!