April 29th, 2013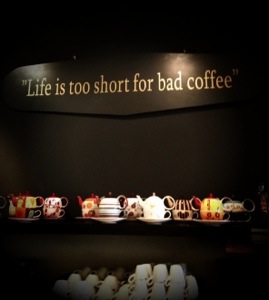 . Things have been going at warp speed here and all has finally come to a slower pace today. I look back on April and can't figure out how it flew by so quickly, but there were so many great moments and good kinds of 'busy'ness. I said goodbye to my last order of the month today and now planning for May.
At the end of the week, Marcel and I too a long anticipated trip to the north for a night away and to spend time with dear friends. It didn't quite work out as we had planned as he turned sick and ended up at the hospital with a nasty case of flu but we still had some great moments and fun in spite of him getting sick.
He's now on the road to recovery and it's me that's feeling a little under the weather. I guess there is a downside to the beauty of Spring! Ahhh Choo!
I saw this sign at a sweet specialty coffee shop when we were in the north and I just had to take a quick shot. After all- it's true.