February 24th, 2013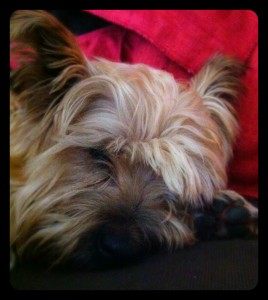 If you walked in our living room at this exact moment; this is the picture you'd see-  JJ lounging beside me on the sofa-  me covered up with a quilt and the laptop in my lap (for the moment).    The skies are grey, the trees void of any leaves or sign of life, and it's snowing-  tiny flakes,  just enough for me to be able to say it's snowing, but not enough to stick.
I was lying in bed this morning, thinking about things I need to be doing-   site updates- prep work for business and personal taxes-  regular exercise plan- emails- both business and personal- and the list goes on…. I paused and reminded myself that I promised that right now-  I'm focusing on getting 'me' back on track, so I let everything else go-    I need to be at my best in order to start getting things done- and while I'm getting there slowly-but-surely, I'm not there yet.
I'm keeping my energies focused on where they need to be and soon enough my cup will be filled and overflowing- and I'll be completely rejuvinated.
I am so grateful beyond words to the people who have reached out to check on me.   I haven't been talking on the phone much, or spending a lot of time on the computer, but to know that I've been missed and to know that people have asked if I needed anything- means more than words.
Marcel has been a Godsend to me- picking up the slack where I've been unable to do things.   He's far from perfect, but he is always someone I can count on.   And the four-legged members of the family?  They are always great for a little joy and a smile or two.
How are you spending your Sunday?
2 Responses to "Lazy Sunday"