February 13th, 2013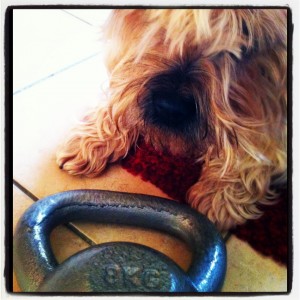 I've had a kettlebell on my fitness 'wish list' for quite some time- so a few weeks ago when a friend offered to order one for me at a great price- I couldn't say no.    I originally planned to 'start' with the 4kg, but she'd talked to a professional who felt that I'd grow out of the 4kg much too soon and they thought an 8 would be a better start- so I ran with it.
Monday- a mutual dear friend dropped off said kettlebell and as soon as I opened the box-  JJ tried to claim it as his own.    It's far too heavy for him to pick up and 'run' with-  so all he could do it look at it-  and 'talk'.    It was quite comical..     Then a little later- I did a little test work-out using the kettlebell and low-and-behold he was very fascinated and trying to jump up at it when I was doing my routine.  More comedy- but it definitely means there will be no JJ anywhere near when the kettlebell workouts are happening.
Same day- later in the evening we hear him whimpering in the guest room-  (somewhere he never goes).  We went into the room to find him once again lying next to the kettlebell whimpering and talking away.   I so wish I knew what his thoughts were.    Needless to say it was precious and I'm hoping to catch him 'in the act' again sometime- because I would love to video and share with everyone.