April 22nd, 2011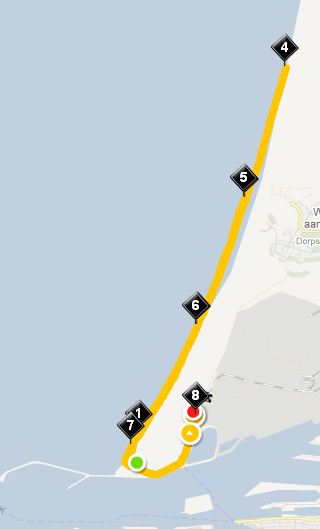 This is a picture of the GPS map of the walk I finished about an hour and a half ago.  The total was 8 miles- without stopping (except to get a shell out of my foot) and I'm beat. 
I love walking on the beach-   mostly because I don't need music-  all I need is the sound of the waves and the vastness of the ocean and he sand in front of me- and I feel good.    I had a friend who always told me I feel my best by the water because my birthday is in July, and therefore I'm a water sign.     I don't know how much truth there is to that- but one thing is for certain- the beach and water calms me. 
I'm in a challenge with my friend Micha to see who can walk the most in a month, but I'm still behind after having to wait and let some blisters heal.   It's fun- plus it challenges me to expect more out of myself and I need that.
JJ and Marcel came along- but somewhere along the way Marcel stopped and waited for me.   He didn't mind- and he knew I really needed to walk.   I wasn't the only one with the idea to go to the beach.   The temps are perfect, so some areas were packed.   I could also tell that it was the beginning of Spring break, because there were kids and dogs everywhere in the busy spots.   JJ even made a few new friends.
Now- I'm relaxing and trying to pump myself full of water to make up for the perspiring that I did.    I also need to remember to take a couple of Motrin- to help head off any soreness. 
This is what I call Good FRIDAY!
One Response to "Keep On Walkin'"