July 5th, 2011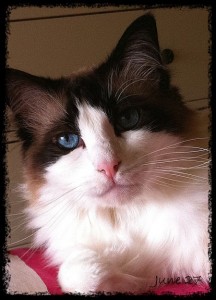 June 27-
When the week started, I didn't plan to take so many pictures of Mister M.   After the first two days found him the subject of my iPhone camera (One of these days, I'm going to take the time to pull out the Nikon for the daily photos), I then thought it would be fun to do a Mister M. theme for this week.
It didn't quite work out like that either- but there are some.  
Most people who visit here frequently or who know me in real life know that Mister Mistoffelees is my cat-  He's a ragdoll and probably one of my favorite cats I've ever owned.    I adore him- and he is filled with personality.    He will be 6 in August and I'm wondering where the time has gone.  It seems like just yesterday I was bringing him home from the breeder.  
He and JJ are true joys in my life.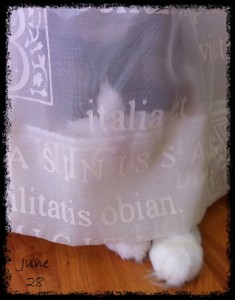 June 28-
Since we got JJ- Mister M. doesn't have the run of the house the way he used to.  It also means that he doesn't get to play the same way that he once did- simply because JJ won't allow it.    He does have a companion and playmate in JJ, but it's more of a relentless playing that would never stop if JJ had something to say about it.
When JJ is gone, or when he's snoozing-  Mister M. will get in one of his play modes and want to chase me or he'll hide behind the curtain, such as what he's doing here in the guest room.    He thinks I can't see him and he's just waiting to pounce.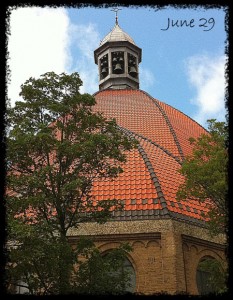 June 29-
Wednesday afternoon I headed out with Desere and Marcel to our local market.
Well, technically it isn't in our town, but it's in the town next to ours.    Desere was going and invited us to go- so off we went.   We walked around, did a little shopping and of course, stopped for coffee.
This is a church in that town and probably one of my favorites in the area.  I think it's gorgeous and the inside doesn't disappoint either.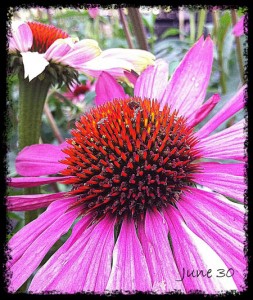 June 30-
On Thursday Marcel and I had to take our car in for annual servicing, so while we were waiting- we decided to take a walk over to the local garden center.   It's technically the only thing in the area to do within walking distance, plus since we needed treats for JJ and needed to kill some time- we decided it was best spent there. 
While we were walking through the plant area- I saw these flowers.   I love them and the bright colors, so decided to take a quick shot.  I actually took several, but it was difficult to see with the glare in the building, so I wasn't sure if any turned out.  This one was ok, so I decided to share.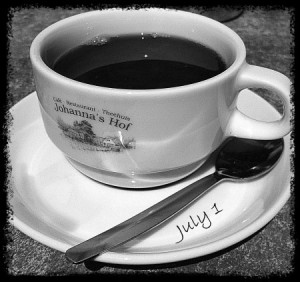 July 1-
 Welcome to July!  My birthday month- and the month that I have deemed as a celebratory month for myself and those around me!   
July 1st was also Hein's birthday- so that evening we all went out for dinner, but earlier in the day Marcel and I decided to go have lunch at a restaurant we haven't been to in a while.   The company was good and so was the food.     The coffee-  it's what I had while I was waiting on my food.
The weather was perfect, so we sat outside on the terrace and enjoyed the sunshine and blue skies.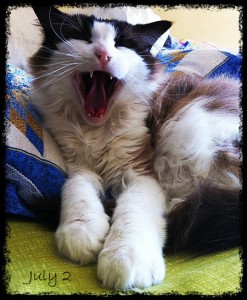 July 2-
It looks as though Mister M. is hissed up and ready to kill someone with those huge teeth of his, but nothing could be further from the truth.  I walked into the guest room to find him curled up on the bed and he woke up as I entered.  I knew that his awakening would be followed by several yawn, so I grabbed my phone and captured one of them.    
He wasn't overly thrilled that I woke him from his nap, but then it didn't take him long to curl up and go back to sleep.  All it took was a little stretch and he was ready to resume said 'cat' nap.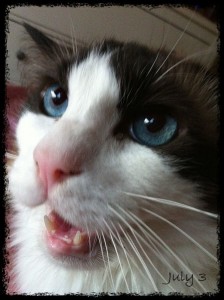 June 3-
This is Mister M.  (See- told you there was a 'catty' theme this week) about 30 seconds before he bit and attacked me. 
This wasn't random and I was far from an innocent victim.  In fact- the shot isn't clear, mostly because I knew what was about to happen (becuase I'd been teasing him) and I was preparing myself and hoping my phone didn't fly across the room.
I ended up getting this shot (and a couple others) before I moved just the wrong way and he pounced my arm.   He bit- but it wasn't too hard and that was the end of that.   In spite of this picture- he really is a very sweet kitty.