June 20th, 2011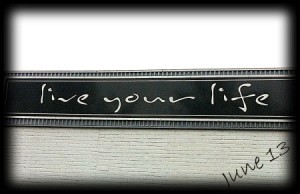 June 13-
This is actually a sign that hangs on the side of a building that sells home furnishings in our town.   I have never been inside the store, but everytime I pass by- the sign always smiles and reminds me that I should be 'living' my life.   Not 'going through the motions' but truly living, each and every day. 
When we passed by Monday- I asked Marcel to pull in so that I could finally take a picture of the sign-  I only had my iPhone with me (as is the case lately), but I was able to run it through PS Express (Photoshop Express) App and this is the result-  I liked the way it turned out.     My message to you today and every day is "Live Your Life" and don't let another tell you how.  Create your own path.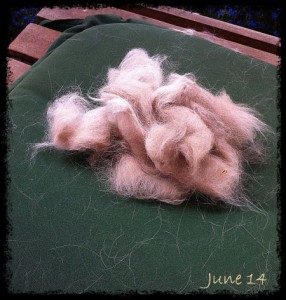 June 14-
Tuesday I decided to give Mister Mistoffelees a brushing and this was the result.  I always brush him outside, simply because I don't want the excess flying hair all over the house.  Usually- he loves lounging in the chair, soaking up the sunshine while I brush him (at least for a while), but on this particular day- there was no sunshine and there was also a ZERO tolerance level from Mister M. to be brushed.   He growled and meowed, which eventually turned into a hissing, scratching and biting event.     Needless to say- I walked away with 'battle scars' , but he still didn't win.  I did finish brushing  him before I ever let him come inside.      The resulting fur was enough to cover a 6-8 week old kitten.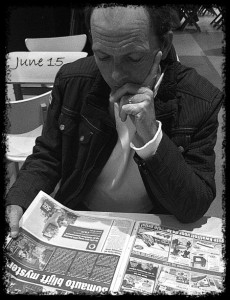 June 15-
I needed to pick up a few things from the store, so Marcel and I headed out, and along the way we stopped at a cafe' for coffee.   There were free newspapers available to read, so Marcel sat and read the paper cover-to-cover while we drank our coffee.  I couldn't help but take this shot of him, again with my iPhone.  He was so engrossed in whatever it was that he was reading-  he never noticed.   I ran it through PS Express and changed it to B/W.  I like the result with the B/W.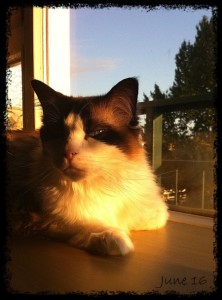 June 16-
One of Mister M's favorite places to hang out is the window sill in the guest room.  Most of the time he sleeps or hides behind the plants- but on this particular day- I walked in and caught him basking in the afternoon sun.  Early morning and late afternoon sun are my favorite lighting times- and this was the perfect moment- I would have prefered to have used my DSLR but I knew that if I even attempted to get it- that Mister M. would have been on the floor and running towards me- so I grabbed the chance and hoped for the best.    I like that part of his face is shadowed and it was about two seconds after that he jumped down and wanted to be petted, so I was just in time.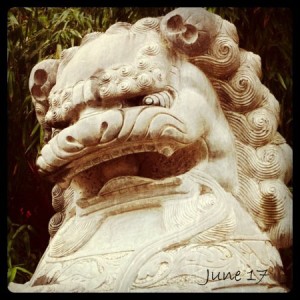 June 17-
Marcel and I went to my favorite Oriental Supermarket and I spotted this ..well I guess it's a lion- dragon or something.  Anyway-behind it is this little patch of bamboo that they've planted- I guess for effect.   I decided it would possibly make a good photo for that day- so I took a quick shot- not knowing if I'd use it.   I ended up liking the way it looked (in a scary sort of way) and decide that I would use it after all.  
I like the way the detail turned out on the 'critter'  (for lack of knowing exactly what it is) and it always fascinates me that there is a ball inside their mouths.  I'm certain it symbolizes something, but since I've not taken the time to Google it and find out exactly what- it will remain a mystery until I do.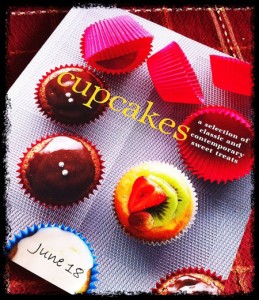 June 18-
The weekend had me a bit under the weather with a stomach virus of sorts- so I didn't do much at all. I didn't eat- I didn't move any more than I had to.  
Since I've had cupcakes on the brain as of late- I did pull out a cupcake cookbook that a good friend gave me a few years ago for my birthday.   I had looked through it at the time- but I really sat down and read it on Saturday.  There are some really great looking recipes in that little book and I can't wait to try some of them.  
I have a party coming up towards the end of July- and who knows, maybe I'll make some for then.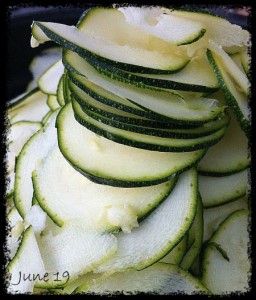 June 19-
Yesterday was Father's Day- and also the first day that I attempted to actually eat something solid again-  I had been sticking to yogurt and such for a few days- but yesterday I grilled some shrimp- and then used my cheese plane with my zucchini and sauteed it with a little garlic.  It is one of my favorite things to eat in the summer.   
I cooked a little quinoa to go along with it- and it was good if I do say so myself.