July 20th, 2011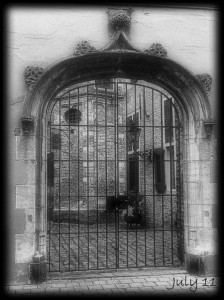 This week I found myself gone away from home a lot.   I took many photos with my phone  (since it was raining most of the week and I didn't want to lug my camera around and risk getting it soaked) and decided that in spite of how much I may have loved them in their colored original state- that I wanted to play with PS Express and see what I could come up with in terms of all black and white and all with a specific look.     I took many photos on every day- but some of the photos that I used were not taken on the specific day-  Some were- and since I'm not going to point it out- you'll just be left to wonder which were actually taken on the day and which weren't.    Consider it one of life's little mysteries.
July 11-
The concrete surrounding this wrought iron gate was a beautiful olive green color and the shutters on the building behind the gate a deep red.  It was beautiful- yet there was something about this photo that I knew would be mysterious in black and white and I was right (at least in my eyes).    I stumbled upon this place while walking through a city with friends and probably couldn't find it again if I tried, and something about that plays upon the mystery and charm.     It makes me want to know more about what's behind the doors and if I would be intrigued once I was on the other side.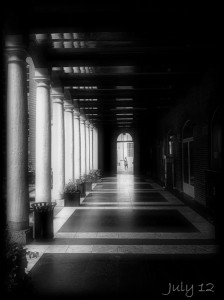 July 12-
Happy Birthday to ME!   This was a fun day that I couldn't wait to get started.  I had Starbucks for breakfast along with a slice of their delicious Carrot Cake and then found myself wandering the streets of the 'big city'.    I've passed this particular area probably 1000 times in visiting the city and never once walked through the door to see what lie on the other side.   On this particular day I did- and this is what I found.    
To the left of the columns is an open area- a small terrace where people can sit and enjoy a cup of coffee, tea or a pastry. It's tucked away behind an arched doorway so if you don't venture past the arch- you'd never know it was there.    I want to go there sometime and sit.  It seems like the perfect place to sit with someone and share secrets with.  
I guess it's proof that sometimes the most interesting things can be found when looking past the ordinary and stepping into the unknown.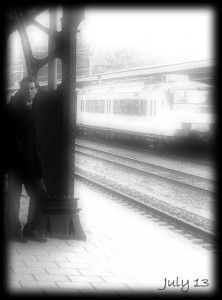 July 13-
I was waiting for a train with my friend Bobbi on this day and saw this guy leaning against the pole and decided to snap a picture of him.   Even though there were many people at the station that day- this picture gives the illusion that he's alone at the station.     I guess it's a reminder that things aren't always as they may appear to people- even when you 'think' something looks one way- it may very well be something completely different.  
It rained on and off most of the day on Wednesday and I still had a wonderful time with some of my favorite people.   I can't wait to go back and explore the city again in the very near future.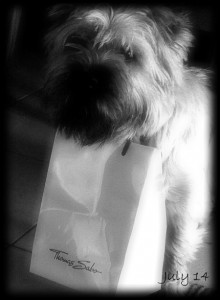 July 14-
On my birthday- I used my birthday cash that I received from several people and I picked up some charms for my Thomas Sabo bracelet while I was out in the city.    When you buy charms or any jewelry from their collection- they give you this little bag and it sat on the coffee table for a couple of days before I decided to throw it away.
Before I did- I put JJ's favorite rawhide bone inside of it and put it around his neck for him to carry around.  It was hilarious.  He had no idea what was happening to him and he ended up dragging the bag around more than actually carrying it- but it was cute.   I didn't torture him with it for too long and removed it, plus tossed the bag in the garbage. I did think it turned out cute though.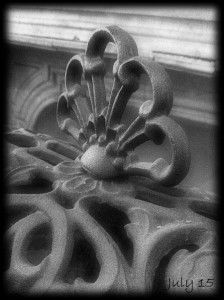 July 15-
I don't know what it was about this ornate piece of iron that was part of a fireplace type insert- but I loved it.  It actually wasn't a fireplace, I suppose, but more like a wood burning stove- with this as the top of the iron that was around it.  I love the shape and it reminds me of a top of a cupcake (I know- I have cupcakes on the brain these day) but I do love it-   I took several shots of it and again- changed it to black and white and allowed PS Express to work it's magic.
I would love to go back to this place and take the Nikon and see what kind of images I could capture with my 'real' camera.  Not that the iPhone isn't a real camera, but it doesn't have the power that my others do.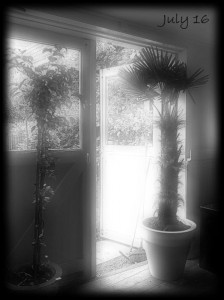 July 16-
This was another fun day spent with some people that I absolutely love.   I could call them friends, but they are much more than that-  they are family, at least to me.
We had lunch in a nearby city where the food was good but the service horrid.  The lack of service was somehow made up by the fact that the guys (and only guys) working there were all good looking and served as a sort of eye-candy for us as we spent two hours chattering away over coffee and lunch.    Since A. and I had a very small (think fist sized) salad, we decided that our portions weren't nearly in direct proportion to everyone elses and that we needed dessert.   We also decided that it wouldn't be at this restaurant so we headed off to one place only to find it full.    I then saw another familar place at the end of the street and off we went.    Along the way we saw this adorable looking flower shop- which also had a sign that said they were a cafe- in spite of not looking anything like a cafe.   I went in for a peek, and sure enough- it was one of the most wonderful places I've ever seen.  
We had delicious cheesecake with an Oreo crust along with great coffee all while sitting amongst gorgeous flower arrangements and plants. It was one of the most relaxing places I've been to in a while.   This picture was taken at the back of the building- where it opened up onto a small terrace.  I chatted with one of the owners and thought he was great. I'll definitely visit this place again.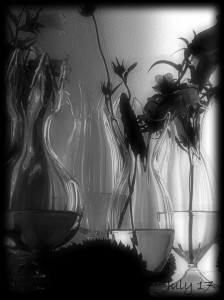 July 17-
This picture is my favorite of all the ones I took this week.   The flowers are real- and sitting on a shelf with some strong backlight to their right-   The flowers in the vases are purple, and the vases themselves a clear glass.  
This picture reminds me of romance- and of love.    It reminds me that just because things may appear one way- doesn't mean that there aren't shades of grey in between that make some things even more beautiful.     It reminds me of love.
6 Responses to "July 11-17 (Photo 365)"