September 26th, 2010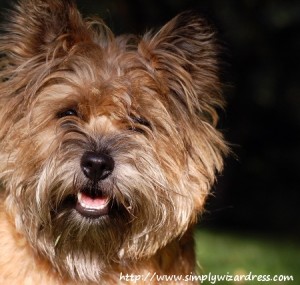 When I was out taking 5 O' Clock Friday pictures, Marcel and JJ went along with me.   I was lying in the damp grass to get the leaf shot and I wanted to try to get a few pictures of JJ in the afternoon sun.    I took about 30 shots of him, but only a few were actually worth sharing-  mostly because he was attempting to get to me and pulling on the leash.   
This dog makes me smile so often.  Don't get me wrong- there are things that he still needs to learn- (such as not to bark as often and not to chase Mister M. constantly, if given the chance), but he is such a joy.   He's funny and so full of personality and loves everyone. 
He lives his life without fear and I pause often in amazement at that and wonder how many of us allow fear to limit us.   I know I have, and sometimes I still do.   I'm a work in progress.    JJ is larger than life, and he lives that way.   His favorite playmates are a rottweiler, an irish setter, a bull terrier and a german shepherd.    The rottweiler and the german shepherd put their head under his stomach and fling him in the air (not high) and he loves it.  They use their paws to push him down when he pounces on them, and he would play with them for hours if he could.   
Right now as I type this- there is silence in the house.  Marcel is working and I've been doing some pumpkin roasting.   JJ and Mister M are both sleeping and in addition to the pumpkin roasting, I've been watching birds circle around and eat the peanuts I've left them.   At one point there were six of the tiny birds and even though I attempted to get a few pictures, I don't think they'll be great through the glass and these are skiddish little creatures.     A little later, JJ and I will get out and enjoy the sunshine, but right now I have to finish a few tasks around here.
4 Responses to "Joy of Pets"