January 23rd, 2012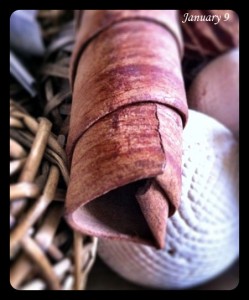 January 9-
This is an odd looking picture- I know.  It's the contents of a bowl that I have on my coffee table- and the center piece is- cinnamon.
When I first bought it- it smelled really great- but now if you want to have the cinnamon scent you have to scratch it- somewhat like a scratch-n-sniff.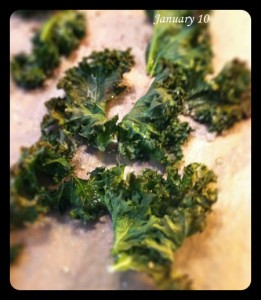 January 10-
Last year sometime I saw someone talking on Twitter about making Kale chips and I thought then that I'd really like to try them.
I forgot about it for a while until recently and I went on a quest to find a whole stalk of kale so that I could make an effort to try the chips.   I absolutely love kale and cook it quite often in salted water and then drizzle it with hot sauce to eat-  It's loaded with vitamins and minerals but what I usually buy is already chopped- but too finely to work for the chips.
I finally found a stalk at a farm and since I wasn't going to make them until the following day- I poked the bottom of the thick stalk with a knife and then put it outside in some water so it wouldn't wilt..    This is the result of the kale chips that I made the following day and they are VERY good..    Huge hit- and surprisingly even Marcel loved them.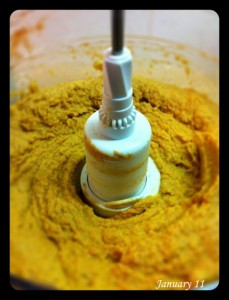 January 11-
This week I was in the mood to whip up things in the kitchen and on this particular day I made some roasted red pepper hummus.   I didn't exactly have everything I needed-   (I was out of tahini), so I just tossed in a little peanutbutter instead.   I have to say it turned out really great-   not to mention I added some hot sauce, cayenne and even some left over taco sauce.  It was a huge hit-  well at least with me, since I'm the only one who eats it.  Add a little to a Wasa cracker and YUM!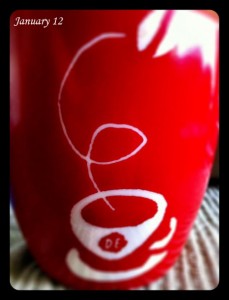 January 12-
This is one of my favorite coffee cups ever-   I fell in love with this about a year or so ago (maybe even a little longer) at a cafe and I asked them if I could buy one.   They told me no-  but I was determined.. (Yes, I admit- I even thought about stealing one for a moment..  It was only a moment though- since I'm not a theif.)     Several months later- wouldn't you know- the store was selling them and I rushed (and I do mean rushed) to the store that day to get one.  They had them in black and red and I got the red (as you can see).  I also picked up one for mom, who I'm pretty convinced probably has it on a shelf in her China cabinet and has never used it.  haha!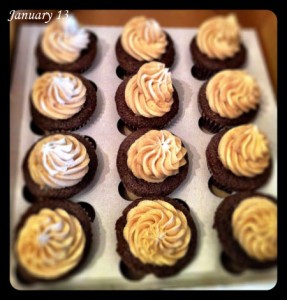 January 13-
Gingerbread cupcakes with Cinnamon Buttercream that I made as a combination thank you-   going away gift for a doctor who was retiring.
They seem to be a favorite amongst everyone who has tried them, so I decided it would be a nice parting gift-  and I hope she enjoyed.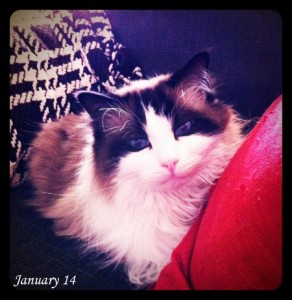 January 14-
My favorite feline-   The amazing Mister Mistoffelees.    I must say that I love seeing him in pictures anyway, but now that we have the new sofa and chair- I love it even more..   It just seems to 'blend' better with his fur.. haha   I know- that's silly- but I think because the sofa is a solid color that it looks so much better.    We are definitely loving the way it feels when we sit on it..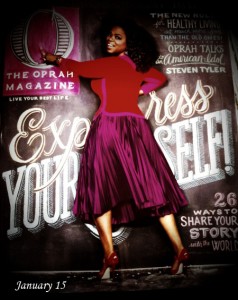 January 15-
This month's "O" magazine and probably one of my  biggest guilty pleasures.   I know- it may not seem like much- but it's one of my favorite things to curl up on the sofa with a cup of coffee or tea and crack open my favorite magazine.
SO far- I haven't had the chance to read this one, but you can be certain it will be happening soon.