February 19th, 2012
I decided that since I needed to be on my computer for a moment today anyway-that I would try to add a few photos to work towards catching up on my Photo 365 challege.   I've got the pictures just waiting to be resized and stamped with the date- but since I'm fighting the vertigo- I can't really spend a lot of time at the desktop, so I'll try to upload them without all the pomp and circumstance.  At least they'll be done- albeit not as nicely as I'd like.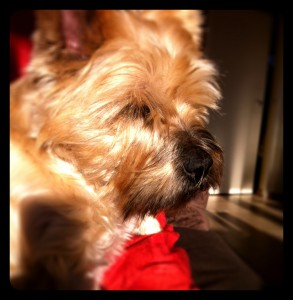 January 23-
With all the cold weather we had been having- We spent a lot of time indoors and enjoying the sunshine as it shone through the windows.  This was one of such days- and JJ sitting in a half-dreamy state enjoying the moment.
He is such a happy little guy, and I am a firm believer that there is a lot we could learn from both dogs and cats about living in the moment and not holding on to the things we can't do anything about.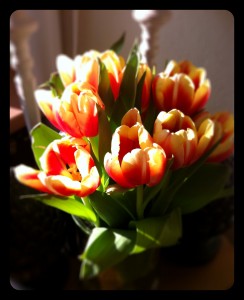 January 24-
My first bouquet of tulips this year.    I actually had two bouquets of the same color and had them in two different vases.   I loved the way the afternoon sun caught these and it seemed to give this dreamy effect.      I did run it through the Camera + app on my iPhone though and I was pleased with the overall look.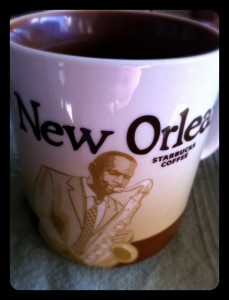 January 25-
Everyone who knows me knows about my love affair with great coffee mugs.   I have them from all over the world,  and I tend to choose them each day based on my mood at the time.
With it being Mardi Gras time-  This is my 'go to' mug until Tuesday- the last official day of carnival season for 2012.
Until then- you will find me sipping my coffee from the cup- and thinking of all the fun and adventure going on in the Big Easy and along the Gulf Coast.   "Let the Good Times Roll!"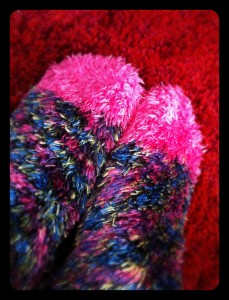 January 26-
I rarely wear socks or shoes when I'm at home- but with all the really cold weather we'd been having- even my poor feet couldn't seem to get and stay warm, so I pulled out a pair of fuzzy, yet very comfy socks an wore them most of the day and into the night.    I did end up having to shed them later that evening when I was watching television as it was a little too warm.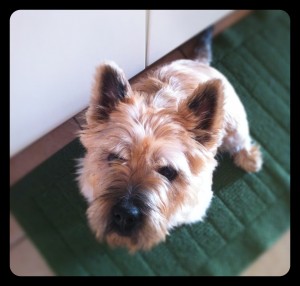 January 27-
My little guy tends to come to the kitchen anytime I'm busy making something.  He's always hoping I'll drop a piece of bell pepper or anything else that he can put in his mouth and run away with.
I couldn't help but grab a quick shot of him.  I don't even remember what I was making, but I do know that he was sitting there for quite some time – waiting with patience, and hope.
Needless to say-   He didn't get anything on this particular day.   Poor guy.  You can see how underfed he is.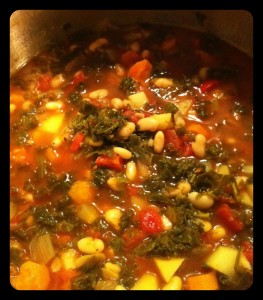 January 28-
This soup is one that I made for the first time but won't be the last.  It's called Ribboita and is technically an Italian bread soup.   I made it without adding the bread and served it on the side.   It was wonderful.
I wasn't sure if Marcel would like it-  after all it had beans and kale-   both of which he likes made particular ways but doesn't steer from those methods.      He loved it- and said I should definitely make it again.   I will!!!  It was such a hearthy and HEALTHY soup- that I can see it becoming a regular winter meal in our household.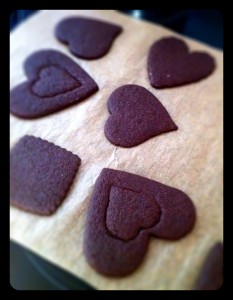 January 29-
This is the beginning of something beautiful.   A batch of chocolate cookies that I made to play around with royal icing and see how well I could do using it.   I loved the flavor of these cookies and they were a huge successs amongst those who ate them.
The decorated version were even better.
One Response to "January 23-29 (Photo 365)"