January 25th, 2012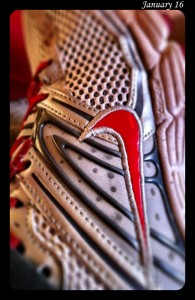 January 16-
I started walking again- and really getting back on track with spending time working out and taking care of myself and of my body.   It isn't that I was being horrible to myself before- but I definitely wasn't getting the exercise I need, so it has been great to get back in the swing of things.
I have asked myself how I ever allowed myself to get out of the habit- since I feel so great when I do work out.    Between exercise and changing my eating habits back to what they should have been all along- I find that I have much more energy and I'm loving it.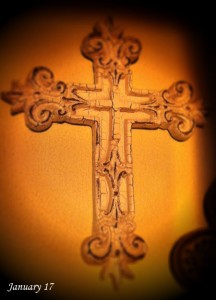 January 17-
The afternoon sun was shining through the window and it was shining directly on this cross that I have hanging on the wall-   There are actually two there- but the other was shadowed where this one was not.   I thought it would make a cool picture and so I decided to grab a shot with my iPhone- then ran it through Camera +, pretty much like I've done with most of the pictures in this weeks series.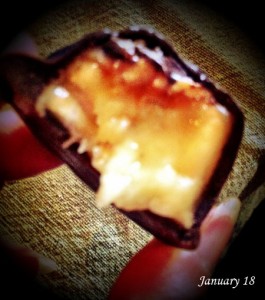 January 18-
This photo isn't even remotely good but I wanted to share what I made last Wednesday, that instantly become a 'favorite' in this household and amongst my friends who had the pleasure of trying it.
Very simple-  I bought three ripe (not over ripe) bananas and cut them into chunks-  then I spread about a 1/2 teaspoon peanut butter (unsweetened) on top of each chunk.  Put them on a parchment lined cookie sheet and then tossed them in the fridge-    I let them cool while I melted some dark chocolate- and then dipped them one by one and put them back on the parchment lined cookie sheet and let them harden in the fridge.   They were- to-die-for.     Marcel, who doesn't like banana's or peanut butter loved them.     They didn't last long..  and I can't wait to make them again.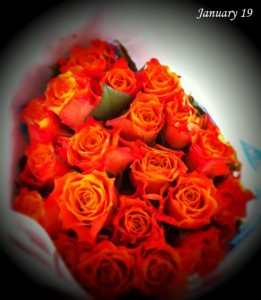 January 19-
My favorite (and only) guy was late coming home from work on Thursdsay.  Generally when he's late he'll pick up the phone to call and let me know- but this time he didn't.     He was due to be home at 2, but at 2:15 (and just when I was ready to pick up the phone to call him) he walked in the door carrying these beautiful orange roses.   This photo doesn't do them justice- but they are gorgeous..   Here I am- adding this entry almost a week later and they are still gorgeous-     That's what I call a wonderful surprise.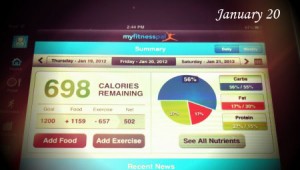 January 20-
This is actually a shot that I took of my iPad after logging my food and exercise for the day on Friday-    I've been using My Fitness Pal for a couple of weeks now- and I have to say that I love it more than Spark People- and that's saying a lot.     I've always been a huge Spark People fan- and still am, but this is – just better in my eyes.
I love how it snycs everything across the board from my phone- my iPad or even the computer.    It's made keeping up with my food diary and exercise much easier.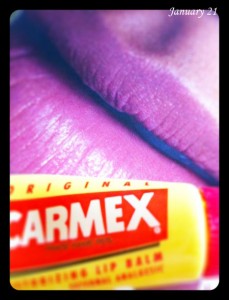 January 21-
Carmex has to be one of my favorite things ever!  It also happens to be one of my mom's as well-   and I'd even go as far as saying she loves it more than I do.     I had just put some on my lips and I tossed it onto the coffee table where it landed on the back of a magazine-   I saw the lips and decided to reposition it for the shot- which I think turned out pretty cool.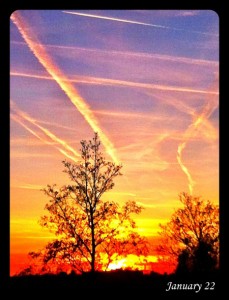 January 22-
I was gone most of the day on Sunday and the picture that I did take I wasn't thrilled with, so I ended up choosing one that I'd taken earlier in the week.    We had some amazing sunny days and even though it was chilly- it was perfect outside with all the sunshine.    I guess since we've had so little lately- that when we do get it- I realize just how grateful I am.   It was short lived- but it was wonderful while it lasted.
The colors in the sky were breathtaking-  It amazes me that after seeing things like this- that people actually believe there is no God.  That's something I'll never comprehend.
One Response to "January 16- 22 (Photo 365)"