July 10th, 2016
When I logged in today, I couldn't believe that I haven't been here since last month and here we are in the midst of the 10th of July. One-third of the month of July is gone, although I'm not quite sure where it has gone.
The old addage that says- Time flies when you're having fun definitely applies here, because I have been having a blast!
It is celebration month, which means I celebrate my birthday for the entire month. After all, why limit my fun to one day? Birthdays are made for celebrating!
I've also been doing a lot of thinking. After all, I'm quickly approaching version 4.9 of my life, and want to make the coming year in this last part of the '4.0' decade is the best ever.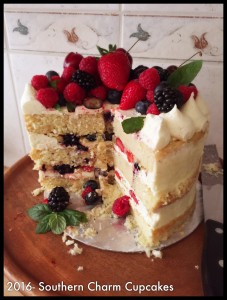 While spending the day and night with some great friends yesterday, one suggested I make a list of 49 things I want to accomplish in my 49th year. I absolutely LOVE the sound of that, so I'll be working on a list- to publish on my 49th birthday- two days from now.
We had lunch at the beach, spent some time in a lovely little beach side town doing some shopping, went to my favorite locally owned garden center, and our original plans included going back to the beach, but Mother Nature had other plans when the rain showed up, so we made our way back home and had Tex-Mex food, plus cake.  This exact cake to be exact.
A LOT of fresh fruit-   blueberries, strawberries, raspberries, cherries and blackberries.   Vanilla bean cake, vanilla bean butter cream and fresh lemon curd.  All made from scratch by yours truly.
The great thing about spending time in the company of true friends is that you can laugh, enjoy each others company and know it's a safe place to 'be'.    Yesterday was all that and then some, but then every day I spend with people I love is like that.
Do I take it for granted?  I try not to, because I know how fleeting life can be- and how we only have this moment.  I try to treasure those moments and be fully present in each and every one of them.