August 31st, 2016
We are on day 18 or 19 of Whole 30.  It's round 2 for me0  round one for my guy.    This time has been more of a challenge for me, as I spend a lot more time in the kitchen making breakfasts and lunches for my husband- since he's so used to having a sandwich of some sort every day.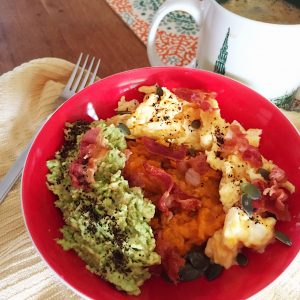 On the days he works early in the morning- I'm left to my own vices for breakfast-   which today was a vice of mashed sweet potatoes, bacon, avocado mash, and scrambled eggs.   I added a little pepper to add a kick, oh and a few pumpkin seeds.    It was delicious & simple.   Two things I can really get behind when I'm doing Whole 30, or anytime, really.
Dinner tonight was another simple fare-  chicken breast that had been seasoned and grilled,  roasted eggplant and zucchini-  alongside a few browned potato slices.     I kept the potatoes at a low-  but again, an easy meal.
What's your favorite 'go to' healthy meal?