June 24th, 2010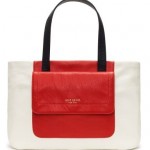 Ok, earlier today I posted a picture of the other bag that I bought and mentioned that I had to tell y'all about a great thing that happened.   Here I am, finally, to do just that.   First, I do have a love of handbags.  I can't help it and even though my mom has told me time and time again that I can only carry one at a time, I still can't help but love them.
Last week KateSpade was having a sample sale and I came across the bag and sunglasses that I ultimately ordered.  They were a great price, and even though I saw this particular bag, I decided not to get it, since two bags were really pushing it.   Four days later, I saw that Kate was having an extra discount on the last day of the sale, which meant an additional 20%.   This time, I couldn't resist the bag on your left.   I ordered it and with the extra 20% it was practically a steal.  
Then I started thinking and wondering about the other two items I'd ordered.  Even though I'd already received them, I decided it would be worth it to give customer service a call and see if they would actually be willing to give me the extra 20% off the items I'd ordered. The very helpful customer service said there was no problem and asked for the code and gave me some information about the credit card processing and that was that. It was THAT simple and I saved quite a bit of money, simply by making a phone call. I had nothing to lose, and ended up gaining quite a savings on top of the one I'd already received. Thanks Kate. That's what I call customer service.
4 Responses to "I Heart Great Customer Service"