February 2nd, 2017
I can't believe it has almost been a week since I was on here last.     The week has flown by- with last weekend spent in the company of a good friend exploring various inspirational foodie haunts, plus a little trip to the beach.    One of our 'stops' during the day was the local camera store, because she needed to get some passport photos made so she could renew her 'almost' expired passport.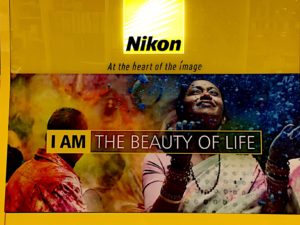 While this is not a post about Nikon-  I've long been a fan of their products and even own several Nikon DSLR cameras.     That being said-   some of my favorite commercials ever are their I AM ads.
I saw this ad in the store and I couldn't help but pause and soak up not only the image, but also the text and what it means.
I do believe that what we focus on in our lives is what we not only see more of, but also what we manifest.  Yes, life is full of ups and downs- but when I think of some of lifes' darkest moments in my life-  I also can find the beauty in them.     I would prefer that life had no sadness or tragedy, but to be able to find something beautiful in the midst of pain is important, at least to me.
I was reading an article earlier today talking about life defining moments, and how some of them are moments that have brought us the deepest sorrow.    I was reminded of a moment where I felt a deep amount of pain and in the beginning wasn't quite sure how I would make it through- as it was something I'd never experienced before.
Rather than becoming angry and bitter- as it would have been easy to do-   I allowed myself to feel what I was feeling, also made a few choices that I wasn't extremely proud of, as a knee-jerk reaction to the pain, but on the whole-  I took the time to grieve, then I wanted to be aware of what the pain could teach me, and what lessons I could take away from the entire situation.
Through that-  I learned SO much.   It was one of lifes' biggest gifts and because of the experience, I was able to carry what I learned with me- so that I can apply it to life as needed.   That embodies the above photo-  and the …. beauty of life.
We are all different.    It seems now more than ever there is a focus on how different we really are, but at the core-   it really isn't us versus them-   we are all very much the same.    We all bleed, we all have hopes- dreams- fears- uncertainties.   We all love- believe in something-  laugh-  sleep- and the list goes on.     The truth is-  we are far more alike than we are different.
Fill in the blank-    I am.. ______  As for me-   I believe the one word I'll  put above all others for what I AM-    LOVE.   I am LOVE.    Don't you want to join me in striving to be love in all that we do?     While one person doesn't have the power to change the world-  we do have the power to change ourselves- to be a shining light-  the proverbial North Star in the night sky-   to leave a ripple of love, respect, inspiration and positivity so large that it creates a tidal wave of the aforementioned and brings something beautiful and positive to every one in it's path.
That, my friends is how beautiful things happen.    Love!