February 1st, 2013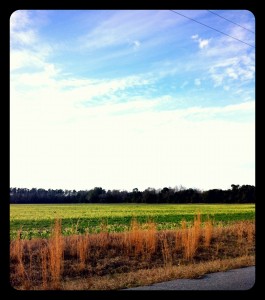 Today I've spent the day inside (as with most of the rest of the week) nursing myself back to health.   I'm still not where I need to be- but with a little (lot) more rest, I'm hoping to have my sleeping habits back in order- and have me feeling good in no time-    It's been a rough week though.
I spent a little time going through my pictures on the iPhone and I came across this picture that I took the Saturday afternoon just before we came home-   It was late afternoon and the skies were a perfect blue-  the yellow in the field was wild turnips-  and there was a gorgeous afternoon 'golden glow' that you can't see in the picture.
I miss it there-   a little piece of my heart is always there and will always be home.