January 5th, 2011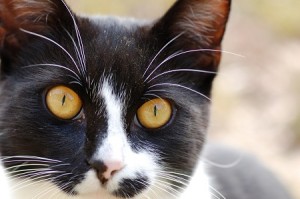 One thing that I can always be sure of is that when we come home mom and dad will have at least one cat.    This year was no exception.   When we arrived in November we found that three kittens had been born several weeks before to MK (Mama Kitty) and then there was BJ (Black Jack)  who you see in the picture to your left.  
It's no secret that I love cats, and they make great photographic subjects (when you can get them to cooperate).  BJ absolutely adores attention so he's ready to do just about anything if it will get him picked up and cuddled.      Of course, if you're too busy to give him the attention he craves, he isn't above biting your feet or leg in an effort to get your attention.   You definitely aren't safe going bare footed with BJ around.  
Since I miss my own kitty, Mister Mistoffelees, I'm more than happy to give BJ and the other kitties the attention they love.      The kittens are hilarious and growing up.  I'm going to have to try to get some decent shots of them.  They run around so much that it's hard.
4 Responses to "Here Kitty-Kitty"