March 10th, 2013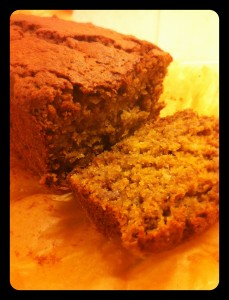 A few weeks ago I went to a workshop that a dear friend of mine was giving.  It was at her home and the workshop included a delicious lunch.   She had also made us a snack-   which was some delicious gluten-free banana bread made with oats groud into flour consistency.      It was delicious.
She was kind enough to share the recipe-  and today I decided to whip up a few loaves with the over-ripe banana's that I had which needed to be used.   There isn't as much sugar in this recipe as traditional banana bread, and the fat has been reduced to 4 tablespoons per large loaf-      I also substituted palm syrup for the honey in the original recipe- mostly because that's what I had on hand, plus because I love the deep, rich flavor of palm syrup.
In one batch (the one you see pictured) I added a few walnuts and in the second batch, I added both walnuts and hazelnuts.   Marcel and I both had a slice for today's lunch, and once they are completely cooled, I'll slice them, wrap each one individually in plastic and freeze them.   Perfect built-in portion control, plus great to have for a quick snack if I'm craving something sweet.
Right now, the temps continue to drop and are now hovering just above freezing, but I expect the snow could start again at any moment.   Three days of sunshine and temps in the mid-fifties definitely had me spoiled.    Since I can't seem to get warm, looks like it's time for a warm bath.
Hope everyone has a great week!