September 17th, 2012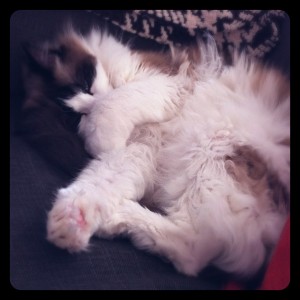 For some reason, in spite of being really tired- I couldn't seem to stay asleep last night.  I would drift off into dreamland only to wake up a half hour later wide awake.    This process continued throughout the night until about 6, when I had two hours left to sleep.    I then fell into an uninturrupted sleep until the alarm went off and jolted me out of bed.
Marcel had a meeting this morning, which meant us being up at 8 after me not getting to bed at times I'd rather not mention.  (Let's just leave it at- it was after midnight.)    I had my morning two cups of coffee and my allergy medication thinking that would give me a kick start, but two hours later and I was still craving the bed.    I switched to green tea with mint thinking that would make a difference, and at some point had another coffee.   Still, nothing has seemed to get those engines revving today.
As you can see from the photographs, Mister Mistoffelees is also having one of those lazy Monday's.   I actually felt bad about it for a while- thinking of all the things I needed to be getting done and part of me was saying- "Just take a day of 'real' rest."       Eventually I did ignore my own inner-voice (Note to self:  NEVER do this!!) and set about on various tasks-  all of which went wrong..  very wrong.     It was one tiny mishap after another, but yet a confirmation that I definitely am supposed to be taking it easy today, so now I'm listening (at least somewhat-  I still managed to get some cleaning done, and do have some quick baking I'd like to do).
JJ is also staring at me, probably wondering at what point I'm going to take him out for his doggie walk- to do his doggie-do, but that will come all in good time.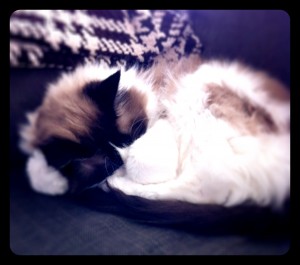 In the meantime- I'll continue to resist the urge to crawl into bed for an afternoon cat-nap (no pun intended) and slowly putter around getting the little things done.   After all- the little things add up to be big things, right?   Right!
One great thing is- it's an absolutely gorgeous sunny day and Fall is upon us-  those are things to celebrate!   That and our vacation is coming up shortly and I can't wait!