March 12th, 2017
Spring has sprung-   Daylight savings time is in full effect, and hopefully 'all set your clocks ahead an hour and weren't too late for any appointments today.     I love seeing the sun stream through the windows at an earlier time, and since our weather is always a bit up in the air-  I love seeing so much sunshine the last days.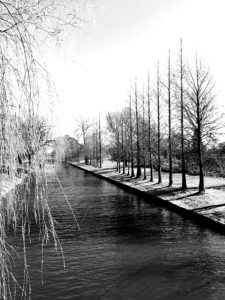 I'll admit, I've spent as much time outside as possible, which has not only been great for absorbing a little natural Vitamin D via the sun, but also to keep me moving and get a little exercise, which I definitely  need.  Well, we all need it, only some of us (me) more than others.
Despite the amazing weather, we've had a few grey days as well, but it hasn't been many.  I have to wonder if the grey is going to start being more the exception than the rule and the blue will take over.
A few days ago, I took a snap and the sky was so blown out, that when I went to process it, I thought it looked better in black and white.   I rarely do that, but even in this world where everything is awakening from the sleep of winter-   and everything is coming to life-  and colors begin to pop-  the black and white still looked best.
As the new week begins, I'm excited at all the potential and the energy buzz that I am feeling.  I have quite a bit of work to do this week, but at the same time-  plenty of time to have a little play, which I'm very grateful for.
All things in balance, right?
I'm still buzzing along with Whole 30 and doing really great.   I will admit that I've craved sugar, but mostly I've been craving black beans and dairy.  Crazy combination I know, but it's true.   I'm getting close to being at the half way point, and from there it's all down hill.  In the meantime, I'm glad I have no dinners out planned,  I'm even having to abandon my beloved Starbucks this month.   That's quite ok though, as I love keeping Starbucks for the treat, rather than something I get used to having all the time.