May 9th, 2010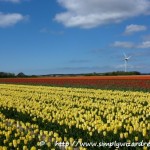 When I say the words I love you they seem to pale in comparison to what I really feel when I think about my mother and friend. I've often heard that love is a choice and not an emotion, which makes it a verb in some situations and a noun in others. One thing I know is that my very own mom chose to give birth to me, and she also chose to raise me, along with diddy. She loved me, nurtured me, taught me right from wrong, and instilled morals and values in me that have helped mold me into the person that I am.
When I hear people say that they think I'm a 'nice' person, or a 'good' person- I know it isn't something that I can take full responsibility for, because the bottom line is- I've had a great example to follow- that of my parents. Mom I applaud and honor you for being the wonderful example that you've been and continue to be, and for being the first to speak up when you think I'm making the wrong choice, and also for being there to apologize if you feel you were wrong in your opinion. Even though I may not always follow your advice, I always listen and your words of 'wiz'dom are appreciated.
Thank you for always being here for me without fail, and for being my biggest supporter and my biggest fan. Thank you for being a shoulder to cry on, an ear to listen, and for being a dear, dear friend. Most of all- thank you for loving me, for teaching me, and for being my mom.
I love you, more than mere words can ever convey.
One Response to "Happy Mother's Day- With Love"