February 12th, 2011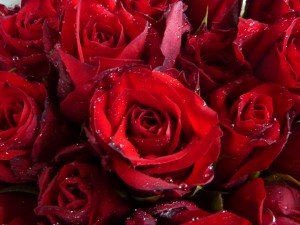 Marcel left a little earlier to go on a 'mystery mission' and when I asked where he was going he simply said that he wasn't telling me.    Since he NEVER says anything like that when he goes somewhere, I knew he was up to something, and sure enough, I was right.
He came home with a beautiful bouquet of long-stem roses and a new charm for my Thomas Sabo charm bracelet.  Needless to say, I'm a very happy girl right now.   Not that the 'gifts' are what make me happy because it's far from that, but just knowing that he went out of his way to try to surprise me gives me the 'warm fuzzies'. 
The picture leaves something ot be desired, but since I'm multi-tasking to the max right now, I wanted to take a quick shot.  I'll try to get a better picture tomorrow or Monday.
I am personally about giving and showing love every day of the week, not just one day out of the year.   I also believe love should be expressed to everyone who has a special place in our lives, because after all, who couldn't use a little more love in their lives.
2 Responses to "Happy Early Valentine's Day from Marcel"