July 14th, 2015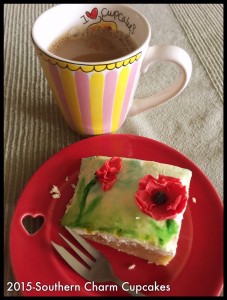 Most of you know- I celebrate my birthday the entire month of July.  After all,  why should I choose one day to celebrate the day of my birth, when the entire month seems like so much more fun?
This year-  I made my own birthday cake.  I tried out a new technique (painting on buttercream)- and I shared the results with some of my friends and family.
One of my girlfriends spent the night with me on the eve of my birthday- and guess what I had for breakfast on my birthday morning?  YES- you guessed it!  This slice of cake-  with a cup of coffee in an adorable Blonde Amsterdam mug that another friend had given me as a gift.
The month thus far as been magical on so many levels, but mostly because of the people I surround myself with.   They are absolutely amazing, and I am very grateful.
I'm at a threshold in my life, and one that is about to catapult me into orbit of blessings and great things.  I can feel it-  and I am filled with gratitude for everything that I'm going to receive, and for everyone who is coming into my life.
I have so much I want to share about this new chapter in my life, but right now I've got a few other things I must get accomplished first. After all- it's still July and there's much celebrating to be done.