March 29th, 2013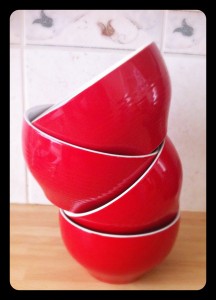 To know me is to know that I love color.   Granted- I guess we all love color to some degree, but certain colors I gravitate towards like bees to a flower.    Red is one of those colors.  Yellow is the other.   Both of them make me smile and feel happy.
Something else that makes me happy is finding something I have been wanting to buy for a bargain price.    Take these bowls-  I have several old bowls that are chipped and in serious need of a trash can- but I hadn't found anything to replace them with.     I have plenty of bowls, but I like deeper ones for when I eat certain things-  like soup.
Yesterday afternoon Marcel and I were out shopping and we noticed one of my favorite shops now has an outlet in the building next door.   I couln't resist going in- and I hit the jackpot.  I found these bowls-   for the bargain price of $1.00 each!    That alone made me very happy- but I also found they had discontined their entire Emile Henry French cookware, so that was also in the outlet.     I had been wanting a large lasagne pan and I got one (also in red ) for a bargain price!
Yes indeed- there is something about red that makes me happy.  It's the little things..
What 'little things' make YOU happy?