January 9th, 2013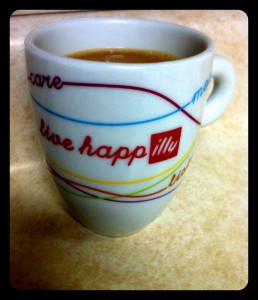 It is no secret to those who know me that Illy espresso is my absolute favorite java.    I don't drink it ALL of the time- but if I have a choice- I'll choose it each and every time.   It is one of those 'little things' that make me happy. 
I actually cried when I received two of these 'happILLY' cups and a can of Illy that also shares this same design as a Christmas gift.  I'd seen them on Facebook- so it was a huge surprise to actually get them.   They are my favorite at the moment- by far.
After all-   Live HappILLY sounds like the perfect motto for this year!