September 24th, 2010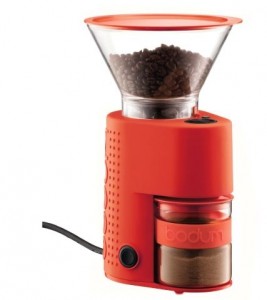 For those of you who have ever had coffee at my home- you know that I prefer freshly ground to the pre-ground.   For about a year now I've been talking about buying a grinder and trading in the one that my mother in law gave me years ago.  There's nothing wrong with it-  it still works, but it's probably at least 40-50 years old and is one of those things that you toss the beans in the top, put the plastic lid on and then press a button to grind.    It's functional, but I would really prefer something a little more modern that allows me to choose the type of grind I'd like for my coffee.  
We have a Krups machine that allows us to make fresh espresso, or we can choose to brew coffee.  It also has a milk frother so we can make cappuccinos- something I haven't done in a while and need to do.   I love that machine and it was a wedding gift from Marcel's mom.   
I saw this particular machine in the "O" magazine for this coming month and fell in love with it.  I'm showing the red one, although that isn't the color that I'd buy, since it doesn't match the kitchen.   Marcel turned his nose up when he saw the price (around $100.00), but he knows if I really want it, that he'll want me to have it.   (Even if he doesn't realize that quite yet.)   The only thing holding me back at this point is I want to find out if you can set it to brew for a specific amount of coffee.  I want to know that if I want 2 cups of coffee that it will grind beans for 2 cups – or if I want coffee for 12 cups it will do the same.    I'll also probably wait until we return from our vacation, but I love this little gem and hope to see it in my kitchen come the first of the year.   Maybe if I play my cards right, Santa will bring it to me or that I'll at least find it for a bargain price during the Christmas holidays.
5 Responses to "Grinding Beans"