November 1st, 2012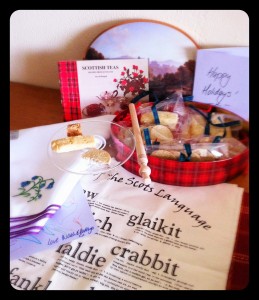 I'm part of a food group on Facebook and a while back we decided that we would have a fall cookie exchange.  If you wanted to participate then you signed up- and then once everyone was signed up- they would use a computer generated method to assign us a person to bake for.    Then it was up to us to get together with that person- let them know if we had food allergies- things we don't like and choose a time frame that worked for both schedules to receive the gift of goodies.
The person who got my name is a Scottish friend of mine.    Some of you who read this know that my ancestors on my diddy's side of the family are Scottish- straight from the Isle of Skye-  so when she asked if it would be ok to send me a Scottish themed package- I couldn't say YES fast enough!
Today was the day that my package arrived-   filled not only with gorgeous baked goodies (shortbread, Scottish tablet *which reminds me a little of pecan pralines without the pecan* and my very favorite- Scottish oat cakes).  In addition she added a tea cloth-  a towel with words of the scottish language- and a beautiful tin.. Oh and a spurtle (the little wooden stick), which is used for stirring porridge.   Of course, I'll use it for steel-cut oats- which is probably very much like porridge.
Included was also a little drawing that her young boys had made for me- which was a perfect addition to the package.
This made my already good day great!   And of course- it gives me an itch to get back to Scotland for another visit.