April 22nd, 2012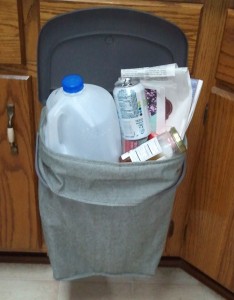 Here I am finally, feeling well enough to pull out the laptop and get this Giveaway underway!     First things first!  First, let me tell you a little about what I'm giving away and why!
First off, anyone who knows anything about me at all knows that I am always on the hunt for better ways to get things organized and that I'm also one who gets really excited when I stumble on to something that I really like.   Then I want to share it with the masses-  after all, why not spread the wealth right?  Yep, yep that's my way of thinking too!!
It's no secret that I've been a fan of Rubbermaid products for years, so when the good folks at Rubbermaid contacted me and asked if I would be interested in checking out a new product called the Hidden Recycler, I said YES!!
Before I received the product- I read about it and there were immediately several things I liked about it- sight unseen.   I loved that it could be easily mounted inside the cabinet, which meant easy access with storing recycle items, plus I also liked the fact that the bag was machine washable, which meant any leakages that may occur could easily be cleaned by tossing the bag in the washer.
So when it arrived, I was pretty excited to test it out- so much so that I initially set it up on the outside of the cabinet door just to see how it would hang and how sturdy it would be when I started adding various items.  It was great!   I loved that there's a handle to lift it right up and out, making it really easy for transport to the recycle bin.
After I hooked things up 'the proper way' where it was actually hidden-  I used it for a couple of weeks and even tossed it in the washer (I washed on warm and hung to dry) after 'someone' (no names haha) tossed in a few containers without lids that leaked into the bottom of the bag.  I'm happy to report that the bag is also leak-free!   Whew!  That saved a mess in the cabinet.
My opinion?  I love it! It keeps the counters clear of clutter that sometimes collect when things need to be taken out to the recycle bin!
The great folks at Rubbermaid also said that if I liked, I could give one of the Hidden Recyclers away on this blog.   The answer to that was YEAHHH!   Of course, I want to give one away!
So, here's how it's going to work-   From NOW until May 4th you can enter simply by leaving a comment.    (One entry per person.)     On May 5th- I'll use a independent website for the random drawing and if you win- I'll contact you via email (So be sure to leave your email when filling out the comment form) and then you'll need to provide me with your name and address (Within the US and Canada only) so I can supply it to the people at Rubbermaid- who will in turn ship your Hidden Recycler to you (retail value $15.99)  several weeks after (allow 4-6 weeks for delivery).
If you'd like to have your name in the hat additional times- there's one way to do that-   Tell your friends, family, etc about the give away and send them to this blog post and ask them to comment AND (this is the important part) to share in their comment (which also registers them for the giveaway) who sent them.      That way- you'll have your name in the proverbial hat an extra time for every person (who mentions your name in their comment- and no cheating- I can see the IP address) who you send this way to register.   It increases YOUR chance of winning, plus it gives someone else a chance to win too.
That's it!   Good luck!
*Disclaimer*  I was not paid to write this review by Rubbermaid or any of its affiliates.    They did give me a Hidden Recycler to test and to give my honest opinion.    Thanks Rubbermaid!
4 Responses to "Giveaway!! Rubbermaid Hidden Recycler! (US and Canada Only)"